What is San Diego Known For?
After living here for a couple years now, I've been wondering what makes San Diego so special aside from the obvious things people flock here for. So, after putting some thought to it, here are things that make San Diego stand out.
San Diego, California's original city, is known for its extensive oceanography & marine biology research, fine beaches, military presence, Mediterranean climate, world-renowned zoo, plentiful museums, and even its own IPA craft beer. 
It's no wonder San Diego is a top vacation spot. There are spectacular things to see and do, and the weather has an average yearly temp of 70 degrees. Also, have you seen our magnificent flowers — everywhere?!
San Diego is known for:
An impressive military presence.
Excellent oceanography and marine biology research.
A mild and dry Mediterranean climate.
Its treasured world-renowned zoo.
There are over 90 museums in San Diego.
The craft beer scene with over 150 breweries.
The roadside landscaping looks like a tropical paradise.
Dependable weather that's mostly warm and sunny year round.
Excellent food for a wide variety of tastes and cultures.
Balboa Park is brimming with rich heritage and gorgeous architecture.
If you're a sea lover, there are dozens of stunning beaches to soak in. For art and culture buffs, there's no shortage of museums, galleries, and native collections to explore.
And San Diego is practically an IPA and craft beer paradise. We've even got an IPA style that's all our own. You will be thrilled with the variety and fun vibe of the beer scene here!
Our military bases
Of course San Diego is known for its beaches, but most people aren't aware that the US Navy and the Marines have a number of locations, bases, and resources within San Diego county. The city of Carlsbad is also home to the Army & Navy Academy. 
US Naval Base in San Diego
Naval Base San Diego (NBSD) was officially established in 1922 by Theodore Roosevelt who was the Acting Secretary of the Navy at that time. Located in San Diego bay, the base is home to over 50 ships and is homeport for the Pacific Fleet. 
Hang out at the San Diego harbor for impressive views of our aircraft carriers, including the USS Midway which is now a magnificent floating museum. 
You'll spot a wider array of ships by taking Silver Strand Blvd. into the south end of Coronado Island. 
Marine base in San Diego: Camp Pendleton
The Marine Corps Base of Camp Pendleton occupies 125,000 acres just north of Oceanside. It's the primary West Coast base of the US Marine Corps. 
With around 17 miles of coastline, Camp Pendleton offers the best amphibious training anywhere. Marines train in massive floating tanks that can carry troops from ship to shore.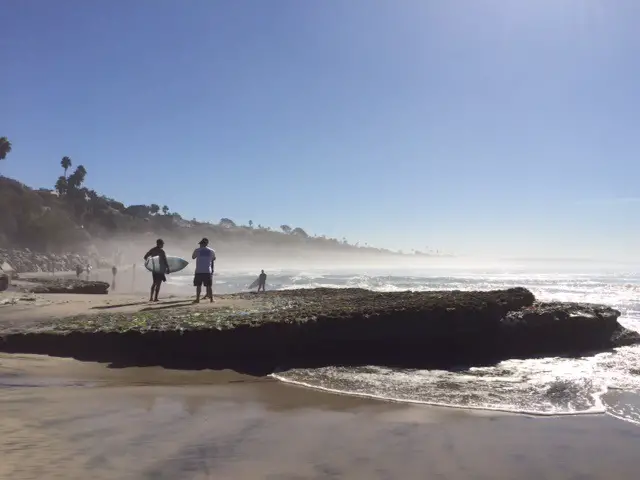 San Diego's world-renowned beaches
San Diego is best known for world-class beaches and surfing spots. Since there's over 70 miles of coastline in our little town, you won't be disappointed.
No trip or vacation this side of paradise would be complete without a trip (or twenty!) to one of our 30+ beaches. Yoga, surf sports, soaking in some rays, or taking in some sea-side shopping are just a few things you can do along our shoreline.
There's a beach here to fit any beach bum's agenda. 
Surfing/kayaking/jet skiing
Walking
Family time
Dog walking
Sea glass hunting 
Romantic sunsets 
Dolphin watching 
Our complete guide to San Diego beaches can be found here. 
Mediterranean climate in San Diego
San Diego's Mediterranean climate mirrors that of Italy, Spain, and Greece. Characterized by warm, dry summers, mild winters, and a location near or on the sea, our weather is sublime to say the least. With 266+ days of sunshine, San Diego takes outdoor living to a whole other level!
Though our average temperature is a lovely 70 degrees throughout the year, it does get hotter and colder than that during various seasons. December is usually the coldest month with an average low around 51 degrees. And August is warmest with an average high of 77.
As is typical of any Mediterranean climate, San Diego has little regular rainfall. Our plants and trees have to be very adaptable to dry conditions. Many residents opt for water-wise landscapes. Xeriscaping can be quite beautiful when done mindfully. 
Marine biology & oceanography 
San Diego is known for its marine biology and oceanography studies. It's also home to the world famous Scripps Institute of Oceanography.
A leader in all things marine, earth, and atmospheric science, SIO offers educational programs and is a research powerhouse in marine life and protection.
The Coastal and Marine Institute at San Diego State is a premier marine science research facility as well. If you've ever wondered how coastal ecosystems in urban places respond to their environment — you might be a marine biologist waiting to happen!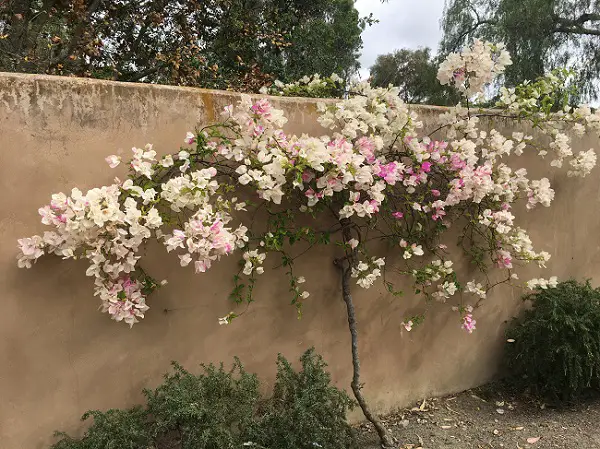 San Diego's amazing flora 
The country's finest weather creates this virtual paradise of plant and flower life San Diego is famous for. You'll see things growing here that you wouldn't spot anywhere else but on an island. 
From Bird of Paradise and iconic palm trees to giant Ficus trees that are mere houseplants in other states — our breathtaking outdoor world is an experience to behold. 
Unique plants and trees San Diego is known for: 
King and Queen palms abound in landscapes around the city and Mexican palm trees line our beaches and coast roads. 
Hibiscus and bougainvillea vines color our yards and roadsides. 
Bird of Paradise flowers amuse with their bright orange and blue spiked "hats". 
Eucalyptus trees are everywhere. These Australian giants are quite at home in our dry climate. 
Ficus and schefflera are common potted houseplants, but tower magnificently as trees throughout our city. 
Balboa Park
Besides beaches and weather, you've no-doubt heard that San Diego is known for its exceptional zoo which is located on the grounds of the extraordinary Balboa Park.
An architectural wonder, with buildings in many styles including Italian renaissance, Spanish mission, and charming adobe cottages — Balboa Park offers a perfect tour of buildings past.
Who is San Diego named after?
San Diego is named after a fifteenth century Spanish saint named Saint Didacus (Diego) of Alcalá. Originally named San Miguel in 1542, the name was changed 60 years later when explorer Sebastián Vizcaíno mapped the coast of California for Spain.
Portuguese explorer Juan Cabrillo landed in San Diego Bay on the birthday of St. Michael, the Spanish
archangel. The newly discovered port was named Puerto de San Miguel in his honor.
Sixty years later, a Spanish explorer and merchant , Sebastián Vizcaíno , was sent on an expedition of the CA coastline in search of a port where ships could dock for rest and repair between trade trips from Mexico to the Philippines.
When mapping the CA coastline for Spain, he renamed many of the previously discovered towns —
including San Miguel– which was changed to San Diego.
What is San Diego known for food-wise?
With its close proximity to Mexico, San Diego is definitely known for its great Mexican food. Tacos of every sort are the rage here. And if you can throw some seafood in the middle, all the better!
Of course, it goes without saying that the fish, shellfish, and sushi are all wonderful and fresh here. San Diegans are rather health conscious, so you'll find a variety of lovely vegetarian and ethnic specialties as well.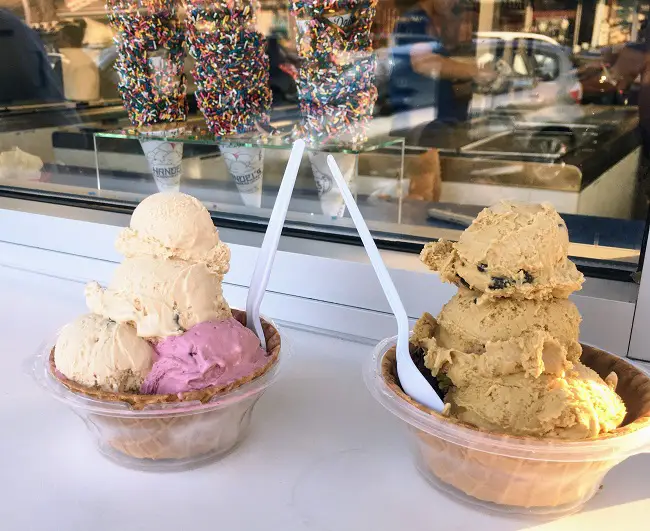 Don't leave until you try
Acai bowls
Carne asada fries
California style wood-fired pizza
Street tacos (authentic double-layered soft corn tortillas filled with wonder)
Fish & chips (Tin Fish at Oceanside Pier is our fav!)
California burrito (heavenly mix of carne asada + fries inside a fluffy flour tortilla)
Homemade Handel's Ice Cream ("Graham Central Station" is to die for!)
What is San Diego known for historically?
Historically, San Diego is known for being an early port town that served as a resting place for merchants traveling between Mexico and Asia. As the first permanent Spanish settlement in California, San Diego is also considered the "birthplace of California".
Our city was originally known as Old Town San Diego, which now lies just a stone's throw to the east of Mission Bay, and a little north of present-day San Diego.
Some of our historical treasures include:
Awe-inspiring Spanish-style missions which are a testament to our Spanish and Mexican predecessors.
The Cabrillo National Monument which is a stunning sea-side treasure marking the place where explorer Juan Cabrillo arrived in 1542.
Balboa Park with its stunning Spanish Colonial Revival architecture and a tour that will knock your socks off.  
What is San Diego's nickname? 
San Diego was dubbed "America's Finest City" back in 1972 by mayor Pete Wilson as a morale booster and part of a city-wide celebration to help lift San Diegan's spirits after losing hosting privileges for Nixon's Republican National Convention amid a tad bit of scandal.
Our city's boastful nickname was born out of a very colorful debacle surrounding Richard Nixon's secret preference of having the Republican convention held here during his bid for reelection. Some city officials were in favor, but not the outspoken Mayor Frank Curran.
Corrupt business practices by a few of President Nixon's wealthy supporters and associates in San Diego resulted in the convention being moved elsewhere. The city had been warped by a "trail of corruption that led all the way up to President Nixon himself."

But hey, it's not our fault Nixon was obsessed with our city. He'd always called San Diego his "lucky city" and frequented our town from his close-by home in San Clemente. A stain on our reputation indeed.
What makes San Diego unique? 
San Diego's LOCATION is utterly unique. The border into Mexico is only 17 miles south of the city; there are over 30 stunning beaches that hedge us in to the west; quaint mountain and vineyard towns form the eastern portion of the county; lastly, Hollywood beckons a short distance from the north.
In just one day, you could access an international border, delicious apple pie in Julian, and a gorgeous sunset over the ocean. Where else in the world can you have a day like that? Seriously.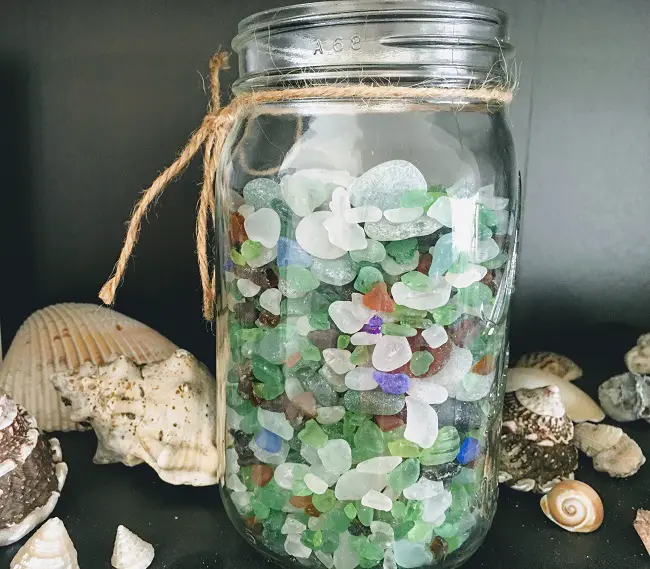 Other unique qualities
San Diego's large population doesn't cancel out beautiful expanses of open hillsides, deep canyons, and natural spaces that have no buildings or development of any kind. This city has done a terrific job of not developing on every square inch of our limited amounts of land.
From the freeways to general roadsides throughout the county — I've never seen such a beautiful driving landscape anywhere. The eucalyptus trees, palm trees, and flowering bushes are everywhere.
Our down-to-earth beach culture & vibe is unmistakable. Unlike our ostentatious neighbor to the north, SD is anything but a mini-LA
Marine life, research, and fishing culture is vibrant here.  
What industry is San Diego known for? 
Aside from the obvious tourism industry that infuses major cash into San Diego's pockets, the military, manufacturing, telecom, and startups are all large pieces of the economic scene here.