7 Outstanding Beginner Surf Spots in San Diego
San Diego is a great surf town for beginners, but there are a lot of beaches to choose from. If you're new to surfing or just visiting the area, how do you know which San Diego beach is best for beginners?
There are seven beaches in San Diego that are great for beginner surfers. Mission Beach, Ocean Beach, and Pacific Beach are in San Diego. And La Jolla Shores, Fletcher Cove, Moonlight, and San Onofre are in or close to North County.
Best beginner surf spots in San Diego:
La Jolla Shores (La Jolla)
San Onofre (north of Oceanside)
Ocean Beach (north of the Pier)
Mission Beach (near SeaWorld)
Pacific Beach (just south of La Jolla)
Fletcher Cove Beach (Solana Beach)
Moonlight Beach (Encinitas)
When hitting the waves for the first several times, you'll be wise to start with some of our suggested surf beaches. Hey, it's more fun — and you have a better chance of not getting creamed by experienced surfers.
Above all, your best success as a beginner out in the water will come from practicing proper respect and surf etiquette from day one.
*We partner with Amazon which means if you click and make a purchase we earn a small commission.
Quick tips when choosing a beach
The best San Diego surfing beaches for beginners are the ones with predictable and gentle surf. Don't get cocky and start somewhere with huge swells.
Beaches with bathroom and shower amenities nearby are definitely your friend.
Try to choose a beach with a regular lifeguard on duty. For new surfers, this is a safety precaution as well as a good source for surfing tips. The lifeguards know their stuff.
Looking for the right board as a beginner? You'll want to read our guide to beginner soft-top surfboards!
Ocean Beach offers good surfing year round
If you're looking to get in a good surf sesh in San Diego, Ocean Beach is conveniently located almost directly west of the airport — and just north of Point Loma.
The best place to start is just north of Ocean Beach Pier It's an easy paddle out to the waves, there are lifeguards on duty year round, and it has a mellow atmosphere — which makes this beach great for first-timers.
The surfing season is year round, but the best time to go out surfing at Ocean Beach is during the winter months when there are less crowds.
Be sure to pay attention to what the tide is doing when surfing at Ocean Beach as it can change throughout the day.
Ocean Dog Surf Shop & School offers surf lessons for beginners that teach people of all ages how to both body and board surf. They also offer private instruction and family classes!
Offers a few free parking areas.
There are public restrooms and showers.
You can find a lifeguard station near Abbott St. and Santa Monica Ave.
Lifeguards regularly patrol the area.
During peak times, it tends to be less crowded than other nearby beaches.
Mission Beach offers gentle waves for beginners
Directly north of Ocean Beach and just west of Sea World is Mission Beach.
Mission Beach has a beginner-friendly vibe and a year round surfing season. Look for small waves and high tide before you head out.
The surfing waves are gentle most of the time, but there can be some large swells in winter when storms come through.
Be aware that surfing at Mission Beach requires a bit more paddling to get out before you reach the right spot for surfing. The best area for beginners is the southern part of the beach (but avoid the direct jetty area where more experienced surfers are).
One of Mission Beach's best perks as a beginner surf spot in San Diego is its wide size. This allows surfers to spread out a lot more than the more narrow, crowded beaches.
There are plenty of bathrooms and showers.
Public parking can be found near Belmont Park, Santa Clara Point, and South Mission Beach Park, but can get crowded fast.
There are several lifeguard stations, so it's well monitored.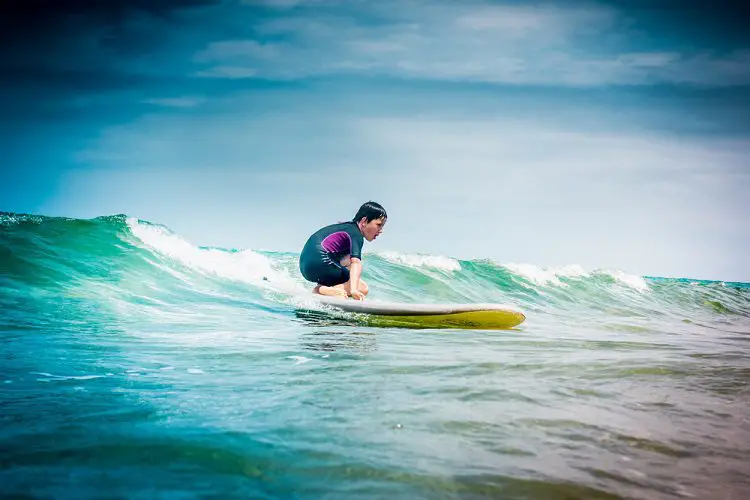 Pacific Beach offers 3 great spots for beginners
Moving north again, along San Diego's coast — just past Mission Beach — you'll find Pacific Beach with a few stellar surf spots for less-experienced surfers.
Tourmaline Beach
Located on the northern end of Pacific Beach just before you get to La Jolla is Tourmaline. It's a great place  to go surfing if you want to be protected from huge waves as a beginner.
Tourmaline Beach offers great views along with restrooms, lifeguards, and food nearby. And there's an actual parking lot — huge bonus around here!
The waves are very beginner-friendly with mostly gentle rolling action that's easy for inexperienced surfers to navigate as they're getting the hang of things.
Tourmaline surf beach has a special old-time surfing vibe to it as locals from the advanced level down to beginners surf in harmony and are quite laid back and supportive.
Law Street
Head to Law Street at Pacific Beach, and you'll be in a great place for a newbie. It's a quieter spot north of the pier with a laid back friendly atmosphere.
There's usually a pretty slow wave that's a smaller size for beginners. And it's a beach break which means waves break on the sand which is more forgiving for beginners.
Many seasoned surfers in San Diego enjoyed learning at Law Street and it comes highly recommended. Weekdays and mornings are recommended to avoid crowds
There are good bathrooms in the area, although parking can be a challenge.
Crystal Pier
Surfing is designated on the north end of the pier since the south end is for swimming only. Though the surfing area at Crystal Pier can get crowded, and advanced surfers may take a lot of space right near the pier, beginners can catch some easy waves by going down just a bit further from the pier.

There's a regular lifeguard presence at the pier which is good for safety, especially when you're new to surfing. Lifeguards are usually a good resource for surfing and rental information as well.
Crystal Pier is also a beach break so the sand helps a lot when you're constantly falling as a beginner. It's not a bad hangout spot after surfing. The pier is fun to walk on and there's good food around as well.
La Jolla Shores is a favorite surf spot for beginners
La Jolla Shores offers gently rolling waves that allow even the newest surfers a chance to practice standing on their boards.
In the summertime, you're likely to see plenty of surf camps and lessons setting up shop on the shore. This is a good sign that any beginner will do well at La Jolla Shores. It's also mostly protected from large swells so you'll rarely be surprised by a monster wave you didn't count on.
Parking can be a nightmare in La Jolla, especially during tourist season. So plan accordingly — or go super early to scout out a spot. Better yet, have someone drop you for the morning or day.
Since the Shores is such a popular beach for beginners, be on the lookout for lost boards (those who aren't using an ankle tether) and watch your area closely to prevent collisions.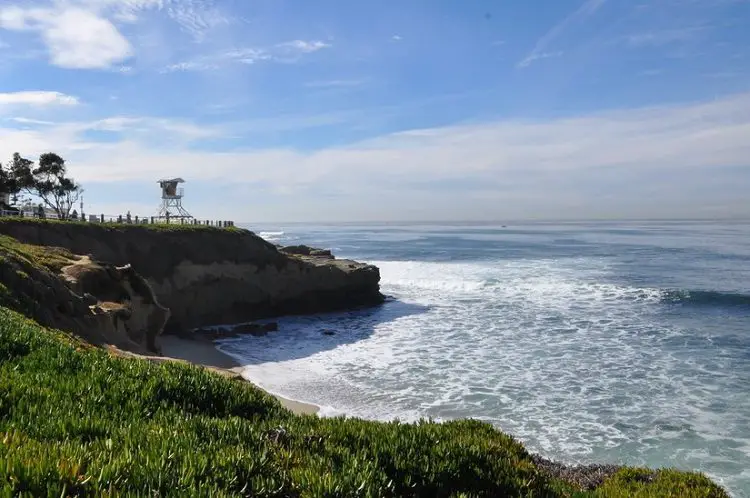 Fletcher Cove Beach waves are easy to catch
The surfing at Fletcher Cove (also known to locals as "Pillbox") is great for beginners with waves that are pretty easy to catch, and a season that's basically good through the whole year.
Located in Solana Beach, just north of Del Mar, Fletcher is a nice wide beach that's easily navigated at high tide. Lifeguards are also on duty year-round.
Some of the best features of Fletcher Cove are easy access and convenient parking as well as a park with a grassy area, plenty of bathrooms, and convenient showers. It's perfect for spending the day surfing or hanging with friends.
It can be a little more crowded than other beginner surfing beaches (especially in summer) but it's worth the trip! This beach is a real gem for swimming also. I can't think of a better North County beach for surfers who want to try their "foot" at surfing! (Instead of hand … get it?)
Moonlight Beach has lifeguards for safety
Moonlight is located in Encinitas which is in North County San Diego. Encinitas itself is well worth a visit. Don't stay too long, or you might just fall in love.

It can get very crowded at Moonlight Beach (especially in the summer tourist season), but it's actually a decent enough size that you can spread out a little. It's best to look at the surf forecast ahead of time for waves that are four feet and under.
Moonlight has easy parking with a large lot up above as well a great lifeguard presence and plenty of amenities like clean bathrooms, several showers, and a snack bar.
It's a really fun place to hang out after a long day of surfing. There are multiple fire pits, volleyball nets, and a great kid's play area.
The BEST PART about Moonlight is it's within walking distance of some of the best ice cream in the area. You can't miss a trip to Cali Cream … but you may have to go a few times if you'd like to try all of their 35+ flavors!

If you're an ice cream fanatic like we are, here's our review of the best ice cream shops in North County!
San Onofre is the best beach for beginners
San Onofre is arguably San Diego's top surf beach for beginners (and shredders alike) and it's a national treasure that North County can call its own.  Surfers travel huge distances for a chance to surf here.
You'll find San O just before passing into Orange County, as it forms part of Camp Pendleton's western border (just to the north of Oceanside). If you get to San Clemente you've gone too far. 
Old Man's is the cream of the crop for beginner beaches in San Onofre. Head straight there and you won't be disappointed.
You'll find surfers of all kinds at Old Man's. But the great part is its accepting vibe.
Great things about San Onofre's surf spots
Beginner-friendly gentle breaking waves.
Both Old Man's and Church are good spots for inexperienced surfers and people expect beginners. So there's less anxiety if you're new. 
There's a mellow vibe and patience for surfers who are learning as long as you're respecting others. 
There are bathrooms and showers near Old Man's.  
There's decent parking near most of the surf spots but they tend to fill quickly during busy seasons/weekends.  
There's plenty of gentle small surf that's ideal for longboards and foamies — which is exactly what a beginner should be using. 
The lineup is more spread out so there's more opportunity for catching waves rather than waiting for hours to find your turn. 
San Onofre Surf Beach map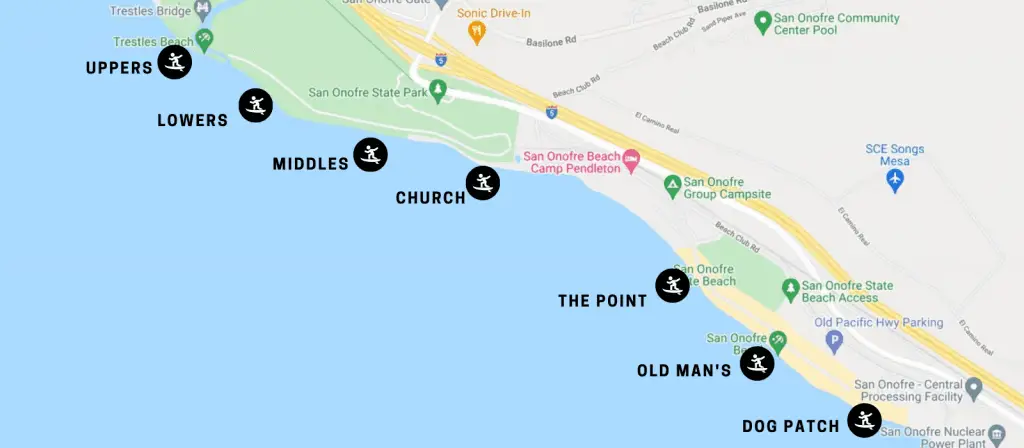 Our four surfing must-haves

Becoming a surfer presents a few extra challenges besides learning to catch those monster waves . . .
ONE: How do I change into my wetsuit without everyone and their mother seeing my naked butt?
Easy! The surf poncho has you covered — literally — LOL!
Strip away. Ain't nobody gonna see nothin'.
TWO: You haven't lived until you try to get a dry wetsuit onto dry skin … don't recommend!
Skin glide lotion is a magic elixir that solves the wetsuit sliding problem.
Or you can wet yourself and the suit down with the genius portable shower! It's also great for rinsing off all the sticky sand and salt water when you're done for the day.
THREE: Now it's time to change back out of your drenched wetsuit and there's nothing quite like that musty, moldy smell when your car stays wet for too long after a surf session.
This really convenient all-in-one wetsuit mat + waterproof bag keeps your feet from frying on the pavement AND wraps your wet suit up in a nice little water-proof bag so your car stays dry for the ride home. Win-Win!
Concluding thoughts on surfing San Diego as a beginner
San Diego offers plenty of options that work well for beginners who have never surfed before. From the beaches right near the city to the furthest in North County, you'll find a great beach or two to cut your teeth on.
Besides being outstanding spots for newbies, you can't go wrong with the views from any of our beaches. So whether you're catching some waves after work today or spending a day surfing with friends, our primary rule here is to have fun, enjoy your day on the water, and be grateful you live in paradise.

Now that you've learned what beaches are best, it's time to get the right beginner board!