Discover the Magic of Oceanside Pier
When my husband and I first moved to San Diego from Colorado, we couldn't get enough of Oceanside Pier.
Even though I'd grown up here and attended UCSD for a year, I'd never ventured that far enough into Oceanside to find this magical pier.
The pier is an amazing place not just because of the structure itself, but the beach there is flat and expansive enough to walk to your heart's content.
If you go at low tide, it's really a sight to see. The water recedes so far back that you can walk under several legs of the pier without getting wet.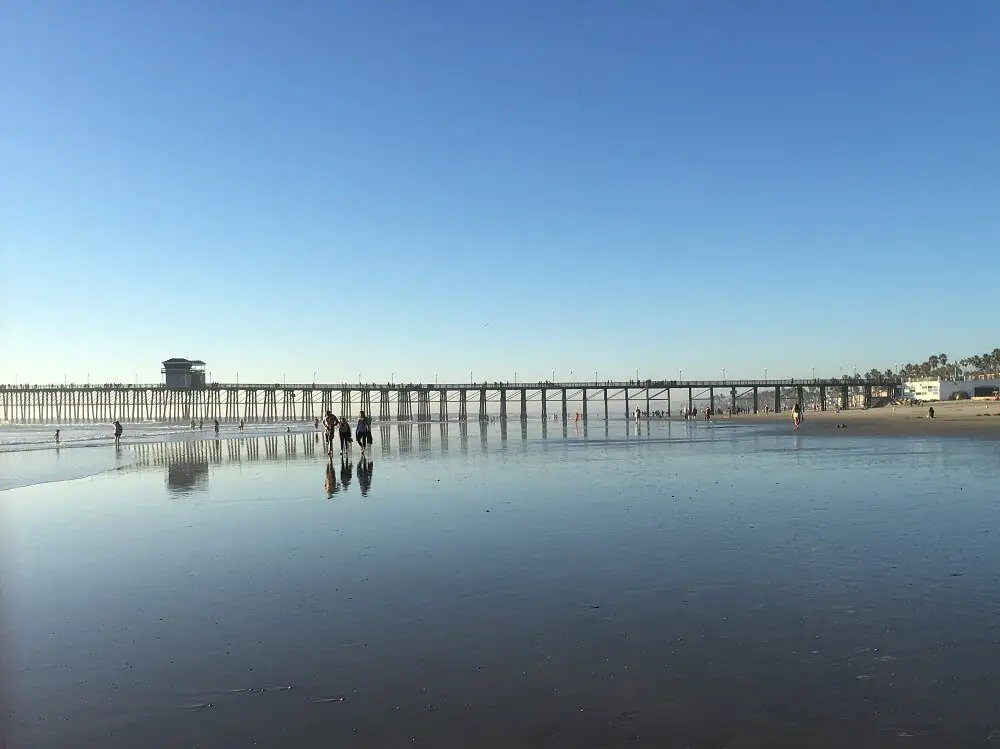 We spent a lot of our first few months back in Cali just soaking up the beauty of the pier and eating a ton of great fish & chips.
At 1954 feet long, Oceanside pier is one of the longest on the West Coast. It makes for a very unique stroll as you go out further and further over the water.
Standing at the very end of the pier is quite an experience. Very calm and serene. It almost feels like you've chartered a boat, you're so far past the surf.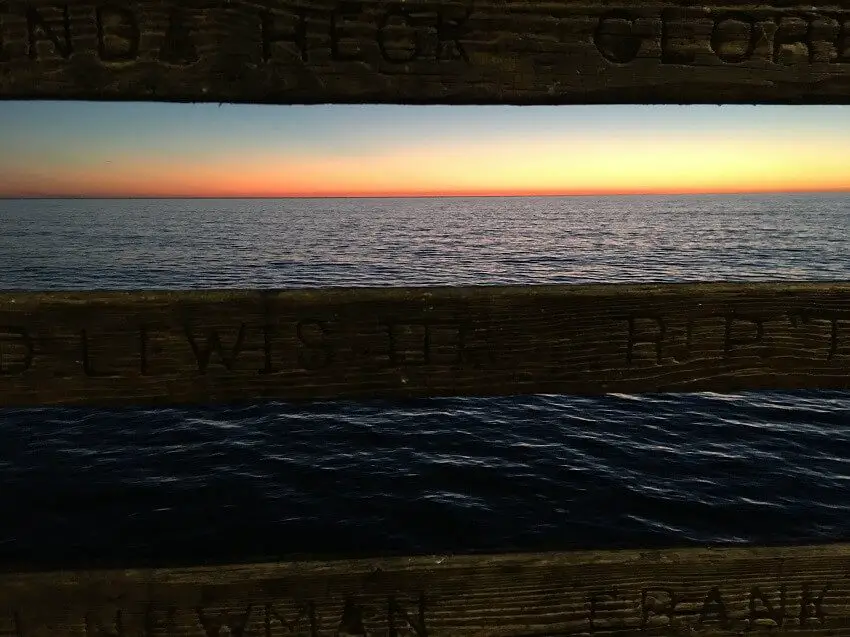 The pier is an excellent spot for dolphin watching. We've seen dolphins about 80% of the time. But it does take a lot of patience and willingness to really stand and look out over the water for a while.
An excellent place to spot dolphins
When we're not in a hurry and take our time looking, we're almost always rewarded with a glistening dorsal fin or two … or ten!
It's well worth bringing binoculars for a closer view of the majestic creatures who surface discretely in couples and small pods.
We've made a habit of putting a small pair of binoculars the glove box of our car. This compact pair fits easily into our pockets.
I sure wish we'd had those binoculars the day we saw two old ships being sunk in the distance at the pier. We could barely believe our eyes when we were watching two ships and suddenly one went up in a plume of water and explosion.
Head my advice … bring binoculars to the pier! That's not the only time we've seen pretty interesting stuff go down out there. 
Besides the bigger happenings, here are other things we love about the area surrounding the pier: 
It's a fantastic place to find shells
It's one of the only places to collect whole shells and sand dollars. I hadn't seen sand dollars on a beach since I was a kid. California beaches have rough surf, and it's not always easy to find whole shells.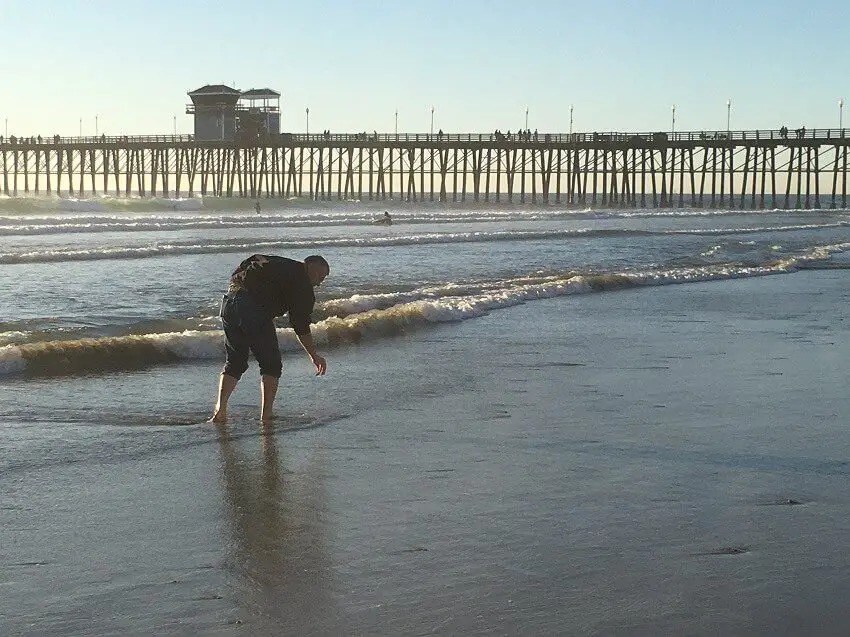 For some reason, this stretch of beach near Oceanside pier is a mecca for sand dollars and other gorgeous shells. As you can see from our ever-growing collection!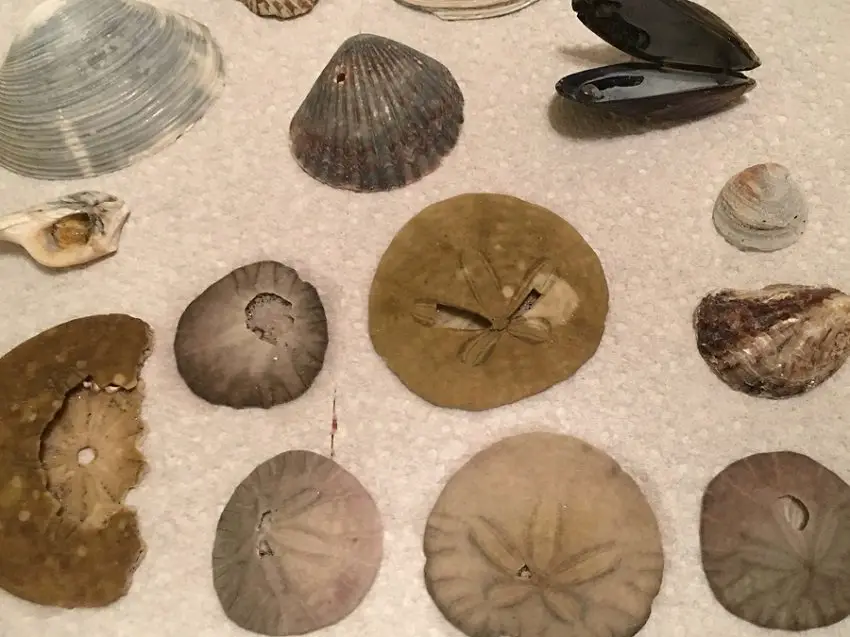 The pier has great food
We rarely go down to the pier without having fish & chips. Our favorite place is Tin Fish right at the bottom of the pier ramp.
They have a fantastic menu with all the seafood plates, sandwiches, and platters you could dream of.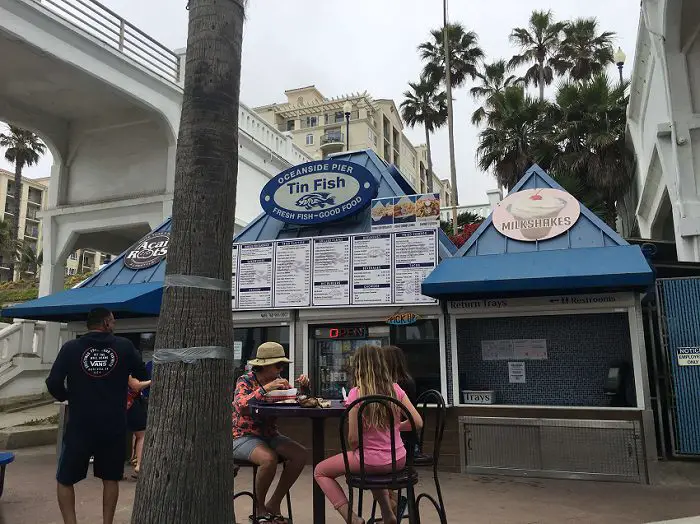 The best part about ordering fish & chips is the enormous portion of six generous cod filets with fries. We always share one order and add a side of sweet potato fries. Pure heaven!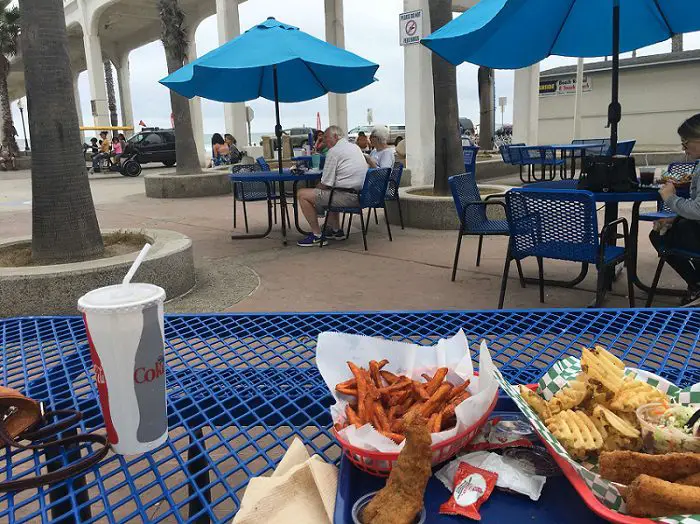 And you can't beat the casual atmosphere and views while you nosh on your amazing fish dinner.
The other place you can't miss when you're on the pier is the famous Ruby's diner. It's an Oceanside icon that serves up old fashioned burgers, fries, homemade milkshakes — and everything else you'd expect from a 40s style diner.
It's definitely like stepping back in time. We highly recommend ordering a burger or fish & chips and eating in their outdoor section right at the end of the amazing pier.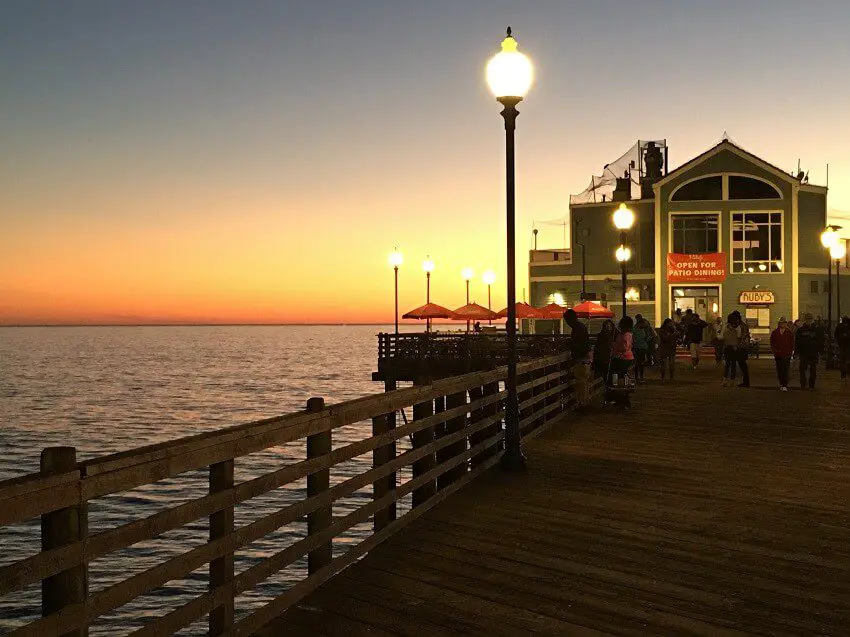 The sunsets are amazing at Oceanside Pier
It goes without saying that sunsets anywhere over the ocean are absolutely breathtaking. But we especially like to be near the pier because of the way the light plays between the legs of the pier.
Professional photographers are especially captivated by the photo op under the pier. It's pretty common to see photo shoots on a regular basis as well.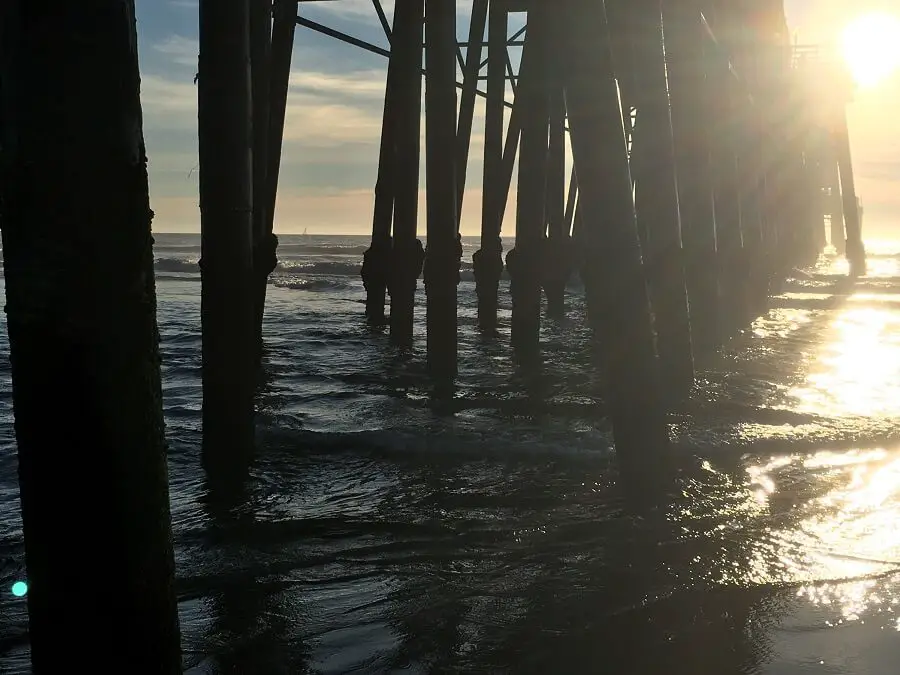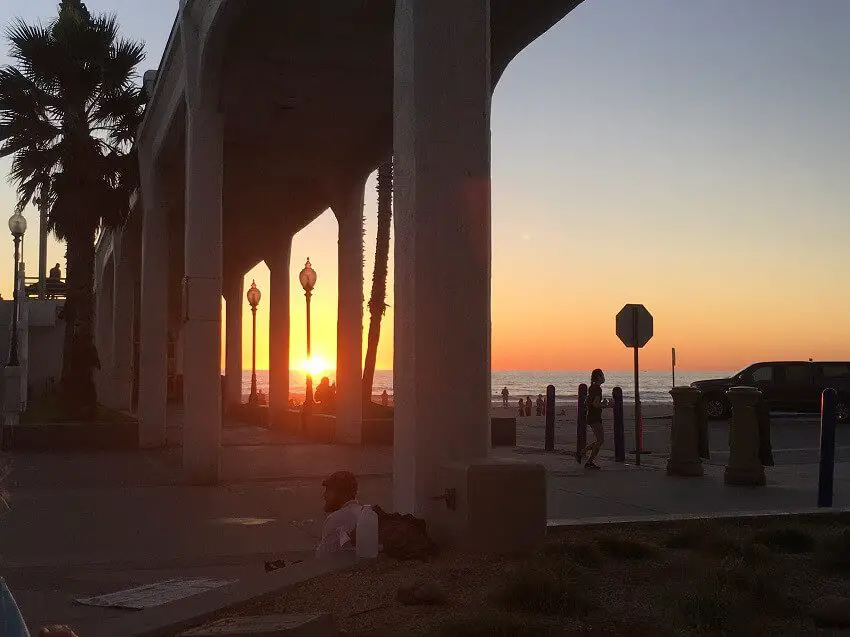 It's an experienced surfer's dream
Oceanside pier is a local surfer hangout for sure. The surf is always excellent, and the surfers are definitely not beginners.
We're told that the surf culture near the pier is pretty intense, and you'd better know what you're doing if you plan on paddling out to catch some waves there.
During stormy weather and super tides, the surf is enormous and really fun for us bystanders. There's nothing quite like seeing an expert surfer ride a 10 foot wave all the way down the pipe.
Oceanside pier has great wildlife
Oceanside pier is definitely a great place to spot dolphins. And I've talked to other long-time locals who've spotted whales in the distance during whale migration season (generally fall and winter).
Another little visitor we see frequently is the harbor seal that likes to bob up and down in the water just to the side of the pier. We usually only see one at a time unlike the dolphins that are usually in pairs or more.
A definite sight at the pier are the pelicans. They're completely majestic and quite imposing. You definitely don't want to get close to them since they're happy to bite you if they're feeling threatened.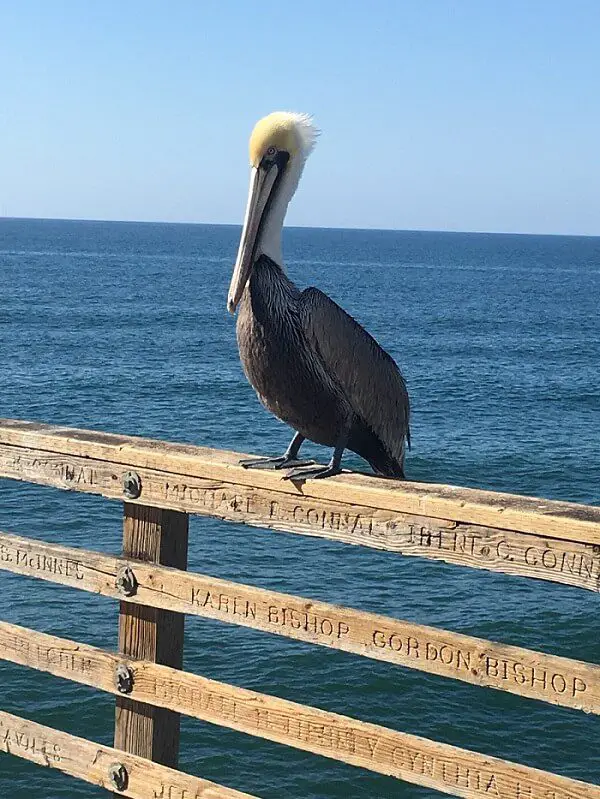 Oceanside pier is well worth the visit
If you need an outing for a few hours, a day, or just great food with a phenomenal view, head out to Oceanside and visit the pier.
You'll love the atmosphere and it just might become one of your favorite spots also!