What is There to Do at Balboa Park?
There are hundreds of things to do and see in Balboa Park, an oasis of botanical delights, culture, architecture, museums, and of course, the world-famous San Diego Zoo. With 1200 acres, you'll need more than a day to explore & enjoy!
Exciting things to do at Balboa Park include:
17 museums including Fleet Science Center, several art museums, Air & Space, Model Railroad and many more!
You'll find more than 15 gardens in the park ranging from native plants, roses, palms, veteran's garden, botanical garden, Japanese friendship garden and more.
Explore the Park's Spanish architecture with Architectural Heritage Tours on the first Friday of every month at 10 am.
Kids will love Balboa park for its 5 unique playgrounds, the miniature train ride, carousel, and of course , the amazing zoo.
Enjoy learning about international history, culture, and traditions by exploring Balboa's International cottages which represent over 30 cultures from around the world.
The History of Balboa Park
Balboa Park is one of the largest urban parks in the United States, with an area of 1200 acres. The current version of the park is a result of the Panama-California exhibition which celebrated the opening of the Panama Canal.
However, the true beginnings were much more humble. It was originally a 1400 acre parcel of non-descript native scrub called "City Park". San Diego's civic leaders had high hopes of developing a beautiful space. It was definitely slow going, but one resident had a huge impact on pointing things in the right direction.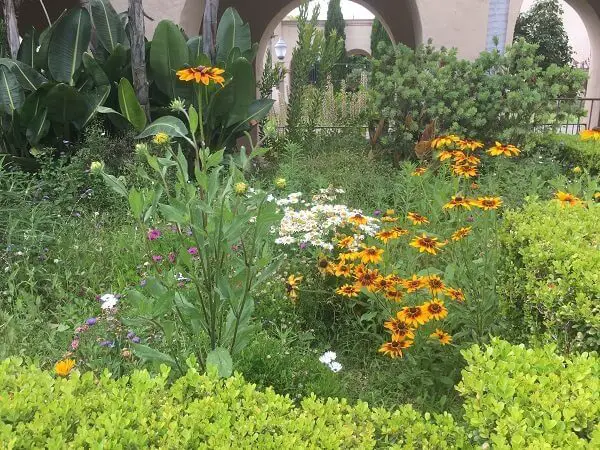 Balboa Park's Famous Botanist
One woman is associated with the park more than any other: Kate Sessions. She was a botanist and botanical illustrator who moved to San Diego in 1885. She owned several nurseries and became overseer of landscape for the city's schools.
 Kate eventually contracted with "city park" (the original name of Balboa Park) to lease part of their land for more of her nursery growing operations. In exchange, she agreed to plant 100 trees a year in the park.
She and her friends formed the Park Improvement Committee in 1902 to make sure the park would continue to move forward and improve as a valuable place within San Diego's community.
Kate Sessions is considered the "mother of Balboa Park", and had a strong hand in practically every aspect of Balboa Park until her death in 1940.
Balboa Park Rides & Kid Parks
Balboa Park Carousel
The newly restored treasure from 1910 is now open for business again and thrilling kids of all ages. Located near the zoo, this carousel is a priceless treasure of 52 hand-carved and painted animals.
The carousel is open every weekend for $3/ride or $10/4 rides. And each ride is 7 minutes long which is quite long since merry-go-round rides are usually around four minutes or less.
The Balboa Park Miniature Train
This special train is only one of about 50 of its kind remaining. With a 3-minute tour through three acres of the park, it's definitely a favorite with all kids and train lovers alike.
The train operates each weekend near the exit of the zoo. Tickets are $3 and you can get more information about the miniature train at this link.
Balboa Park Playgrounds 
Pepper Grove playground is a large play area offering a large sandbox, slides, swings in the younger kids' area, and a jungle gym, mini-zip line and spinning rides for older kids.
Morley Field playground is a great area for sports and is surrounded by tennis courts and a swimming pool nearby. The play equipment includes rock-climbing wall, swings, slides, monkey bars, etc.
Sixth Avenue playground has two separate areas. One for younger kids and another for older. It includes a fire engine themed jungle gym with slides and ropes for kids under 5. And the older kids section resembles modern art with all kinds of spinning and climbing things in bright colors and shapes.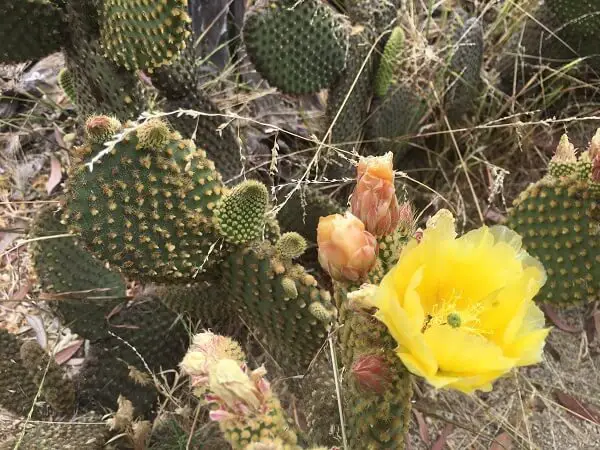 Balboa Park's beautiful gardens
The various gardens in Balboa Park include, but are not limited to: Japanese Friendship Garden, Palm Canyon Gardens, and the Botanical Building. Each of these gardens has their own unique features so exploring them all is a great way to spend an afternoon!
The Japanese Friendship Garden
The Japanese Friendship Garden is a very serene place. The gardens are well manicured, the paths are tidy and among its treasures is a peaceful water feature. This garden was built to symbolize the friendship between Japan and America. 
This 12 acres of beauty and culture is a special blending of California and Japanese native plants including a cherry tree garden and camellia garden. And a favorite spot for many is a visit to the large koi pond to watch the colorful fish.
Palm Canyon Gardens 
Palm Canyon Gardens is a must-see on a trip to Balboa Park. This tranquil desert oasis is a hidden series of paths leading you through the midst of 450 palm trees of 58 various species.
Some of the Mexican fan palms date back to 1912. The Palm garden trail connects to the old cactus garden of the park as well as Alcazar Gardens by a beautiful wooden footbridge.
The Botanical building 
Balboa Park's botanical building is a great place to go for any nature enthusiast. This historic building is quite striking in the old lath style and is one of the largest of its kind in the world.
More impressive are the 2000 + permanent plant residents of this magical botanical wonder. There are fabulous collections of orchids, palms, ferns, and a whole host of other tropical beauties.
A tranquil lily pond and reflecting pool lies in front of the building and hosts a number of species of water plants and flowers to enjoy. The two together make up one of the most popular photography spots in the area.
The Cabrillo Bridge at Balboa Park
This bridge was built in 1915 to commemorate the 200th anniversary of Juan Rodriguez Cabrillo's arrival in California (he arrived in San Diego, but died soon afterwards). It is a beautiful arch bridge with an ornamental arch within an arch. 
You can walk across it, but there is also a sidewalk where you can walk under the bridge which runs along the road. The sides of the sidewalks are decorated with tiles depicting scenes of Cabrillo's journey.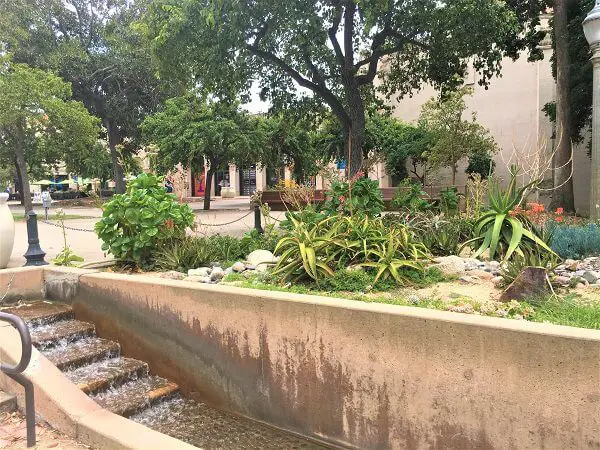 Balboa's Stunning Architecture
Some of the park's Spanish colonial revival style architecture was originally built as temporary buildings for the exposition. Most of them were rebuilt to be the stunning permanent structures they are today.
The Panama California Exposition Buildings
During the 1915-1916 exposition, these buildings were built to represent what was going on in the countries of Panama and California at the time. Since their original purpose was to commemorate a historic event, they still hold true to that today! Visitors will love the beautiful architecture and unique design of these buildings.
The Electric Building at Balboa Park
This building is known for its ornamental wrought iron exterior and creating an open air atrium with a skylight. The Electric Building has been the home of the San Diego Chapter of the American Institute of Architects and their annual AIA|SD Design awards ceremony since 2008!
The House of Charm at Balboa Park
This structure was built as part of the Panama California Exposition and is now known as the House of Charm. It is a beautiful, Moorish-style structure that contains many different rooms with displays depicting the life and culture in California at the time of the Exposition.
Balboa Park's Art & Music Culture 
The Spreckels Organ Pavilion at Balboa Park
This is a beautiful pavilion that houses the largest outdoor musical instrument in the entire world! This impressive organ has more than 5000 pipes and was built and donated by the Spreckels brothers in honor of the 1915 Panama-California Exposition.
The world-renowned organist Raúl Prieto Ramírez plays dozens of free concerts a year including weekly concerts on Sunday afternoons at 2pm.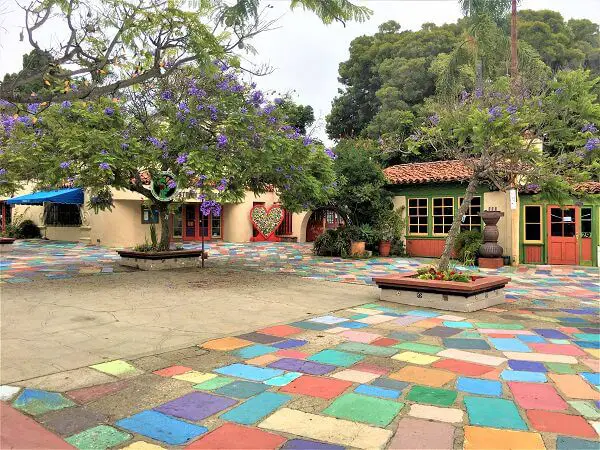 The Spanish Village at Balboa Park
This unique village is a recreation of a town square in Spain. Originally built for the 1935-36 California-Pacific International Exposition, it is now home to 35 working art studios featuring over 200 local artists.
it's an amazing place to stroll through and look at artwork in every medium. But you can also participate in various classes as well as purchase special pieces during special shows and sales.
International Cottages
Balboa Park's row of tiny houses make up its International Cottages section and represent over 30 various global cultures. These little cottages help San Diego recognize and celebrate the rich and unique cultures that have made the city what it is today.
Visitors can tour the little houses to learn about traditions and unique ethnic highlights of each country represented. The cottages host an open house on the weekends so people can take self tours up close and personal.
Conclusion
As you can see, the glorious grounds of Balboa Park house not only our world famous zoo, but dozens of cultural and natural treasures. Not to mention the dozens of museums and children's attractions.
Balboa Park is a diverse and exciting place for people of all ages to enjoy. You'll want at least a few days to take in all that the park has to offer.
For other fun suggestions for San Diego visitors — and residents too, here are some posts you'll enjoy!
The Best Ice Cream and Gelato in Town!
Find out why IPA Beer is all the rage in San Diego!
Collecting Sea Glass in San Diego: Our top tips!