Beaches in San Diego: Families, Dogs, Couples Walking, Surfing & More!
San Diego beaches are some of the most beautiful in Southern California.
The 70 miles of stunning coastline offers beaches for every interest.
Fun family beaches.
Beaches with firepits.
Surfing beaches for every level.
Walking beaches that go on for miles.
Romantic beaches for couples, with extraordinary views.
Dog beaches for on and off-leash fun with your fur baby.
Clean beaches with plenty of amenities … and much more!
Aside from tourist season when our beaches are jam packed (and you'll simply have to be patient with that if you're a visitor or a resident), I guarantee you'll find favorites that draw you in over and over again.
Whether you like the high-activity level of beaches near the city, or the solitude some of the North County beaches offer, there's definitely a beach to suit your personality.
Best Beaches in San Diego for Families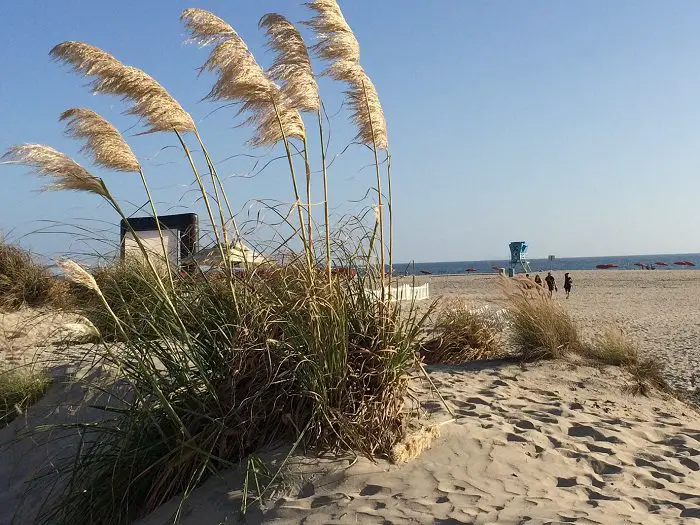 Coronado Island's Central Beach
There are a couple reasons why Central Beach on Coronado Island is a great beach for the whole family. Firstly, and most important with little ones — its bathroom & shower facilities make it super family-friendly.

Secondly, the famous Hotel del Coronado is front and center of this popular Coronado beach area. The hotel is a gorgeous piece of history and well worth taking your kids in for a quick stroll or an ice cream cone or special candy treat at one of their many treat shops.
With stunning white sand, gentle water to play in, and easy access to snacks and bathrooms, Coronado beach is perfect for a day at the water with your little ones.

Imperial Beach in San Diego
This southernmost San Diego beach is only five miles from the Mexican border. It has over three miles of coast and beach to enjoy and is a bit lower-key than some of the more popular beaches.
So if you like a less crowded, more spacious beach experience for your family beach outing, Imperial Beach won't disappoint.

La Jolla Shores
La Jolla Shores is a smaller beach but it makes up for that with its many perks.
A mile of gentle waves and beach to play on.
Year-round lifeguards for safety.
Stunning views from the cliff-side pathways.
A playground and grassy areas to spread out and picnic or relax.
The resident seals offer an especially interesting element to your day by the water.
Be aware: This beach can get very crowded on the weekends which makes parking a challenge. Either plan to start your beach day a bit on the early side or consider visiting on weekdays, especially during the height of tourist season (all summer).

Pacific Beach
Families will love this beach in San Diego, right on the city's coast line. It's very wide so there's plenty of sand space for play, and you'll find a nice boardwalk and pier as well. There are shower and bathroom facilities as well as permanent lifeguard stations along the entire stretch. Those are two huge perks for parents with kids in tow.
And since it's centrally located near the city, you'll find food and snacks easily. Pacific Beach is a great place to stake your umbrella for the day and build sandcastles with your kids.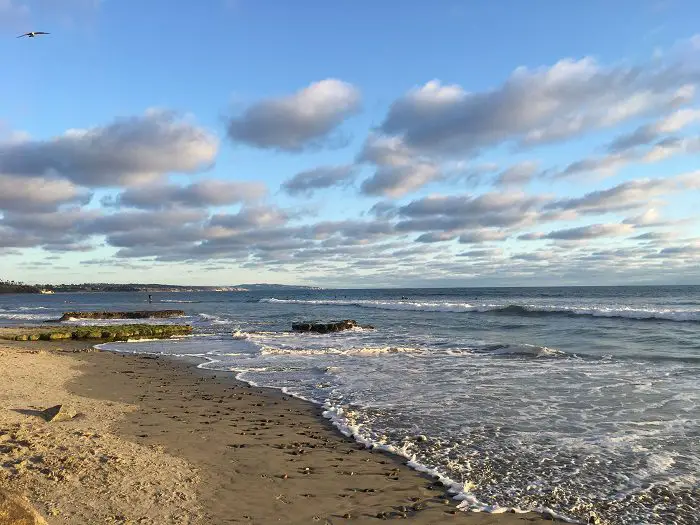 *This post may contain partner links which means if you make a purchase, we earn a small commission.
Moonlight Beach
For beaches near San Diego, out of the city proper (in North County) — look no further than Moonlight Beach in Encinitas! It comes equipped with an expansive new playground, plenty of bathrooms, several showers, firepits, a volleyball area, and of course, fabulous access to the sand.

There's a huge lifeguard station for safety and a very large parking lot just above the recreation area with a nice ramp down that's easy walking for any age. You can't beat Moonlight for family fun at the water.
Ponto Beach
Also in North County, Ponto Beach is located in south Carlsbad (near La Costa Ave.) and offers parking right at the beach level. It's convenient for families since you practically park on the sand, so it's not a big walk.

Be aware that depending on seasonal tides, there's sometimes a layer of rocks (sea pebbles) you'll need to walk over to get to the water. We recommend water shoes with good tread and cushion to avoid bruised heels for your little ones! The rocks can be a fun place to play and look for shells, though.
Carlsbad State Beach
There's a lovely stretch of Carlsbad State Beach that's north of Ponto Beach and is very family and child friendly. Again, it's an easy walk from the roadside parking to get onto the sand. It's a wide beach, so there's plenty of sand to play in — perfect for beach toys!
Oceanside Beach
Oceanside beach is located at the far north end of the county. It's well worth the drive even if you're not staying or living in North County. The pier is a beautiful and iconic structure to see — and if you walk all the way to the end, you'll have a sense of being out on the water in a boat.

The pier is also an interesting place to hang our for a bit to see what people are catching while fishing off the edges. And make sure to watch the north end of the pier (about 3/4 of the way down) for a silly seal that likes to bob up and down. He's not there every day, but we see him (or her!) frequently.

The Oceanside beaches are long and wide, so there's plenty of room to walk and play. There's a small amount of parking at the beach level, but most of the parking is a block to the east on the street above.

There are two large lots (only $5 for the entire day) and a large indoor parking structure. It's not a bad walk down to the water. And the views as you walk are spectacular!
Beaches in San Diego that Allow Dogs
If you want to bring your four-footed friend along for some beach fun, there are a few San Diego dog beaches just for them.

Whatever you do, when visiting any of our dog beaches, ALWAYS clean up after your dog to avoid tickets/fines. These doggie poo bags have a cute clip-on holder to easily dispense your bags!

Dog Beach: Ocean Beach
Ocean Beach dog beach is located in San Diego proper. This dog-friendly beach is perfect if you don't want a time limit for how long your dog can be on the beach. Some other beach towns have limits, but Ocean Beach is open to your dog 24 hours a day and has an area specifically for off-leash play at the north end of the beach.

Coronado's Dog Beach
Follow the signs along Ocean Blvd. on Coronado Island and you'll find another beach just outside the city that welcomes your canine fur babies. It's situated on the western end of the lovely Coronado coastline.
You can romp and play with no time restrictions and no leashes. Be aware of the strict leash law in Coronado and only unleash when you're safely within the limits of the dog beach.
As always, be a responsible dog owner and clean up after your pet with your own bags –or sometimes you'll find bags that are provided for you at the beach entrance. I wouldn't count on those, though.

Del Mar Dog Beach
There are actually three beaches in Del Mar that allow dogs. South Beach, Main Beach, and North Beach. However, each comes with its own somewhat complicated set of rules.

There are different rules for summertime tourist season as compared with the off-season period which is the day after Labor Day through June 15th.

One thing to note is that NO DOGS ARE ALLOWED ON MAIN BEACH from June 16th through Labor Day. The infographic below will help make sense of the Del Mar Dog beach rules.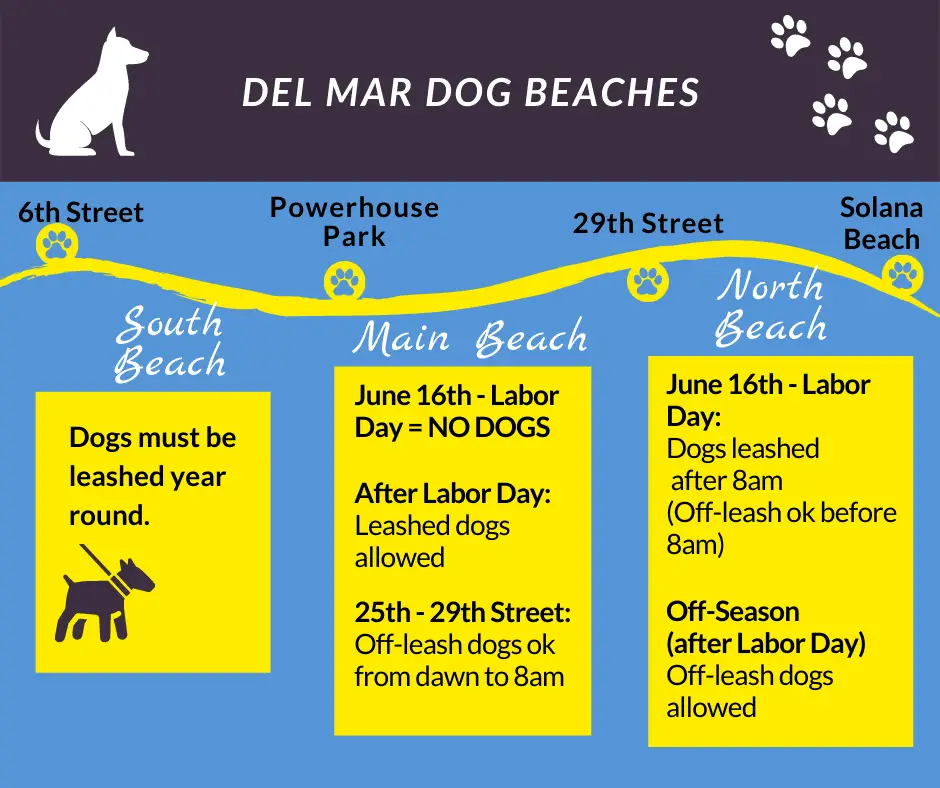 Gorgeous Tide Pool Beaches in San Diego
During low tide, San Diego offers some spectacular tide pool viewing for marine life enthusiasts. Please note that tide pools aren't visible during high tide.

Always check the tide levels before you go. At most tide pools, water levels under 1 foot are optimal, but some can be enjoyed at 1.5 feet as well.
Cardiff State Beach Tide Pools
Tide pool beaches in San Diego are a great place to take the kiddos to see exotic little sea critters. Due to the high volume of rock and reefs at Cardiff State Beach, the tide pools are large and plentiful. Best during low tide, of course, and wear water shoes or similar to avoid slipping.
The La Jolla Shores Beach
This San Diego tide pool area offers several nice tide pools to explore. If you access the area near The Marine Room restaurant, you'll find a few pools to ponder.
If you walk a bit further south on the La Jolla Cove boardwalk, you will come to Shell Beach, South Casa Beach, and Wipeout Beach. Each of these tide pool areas has something slightly different to offer, and some involve stairs or carefully climbing down a few rocky areas to access these sea treasures.

Terramar Beach in Carlsbad
Terramar Beach is home to the Carlsbad tide pools and is part of South Carlsbad State Beach. Public access to the tide pools is along Carlsbad Blvd. down the stairs at Cerezo Drive.

Swami's Beach in Encinitas
Swami's wins the tide pool category, hands down. At low tide, there are so many tide pools to explore and peruse, you can easily spend hours there observing the fascinating world of what lies just under the waves at higher tides.
Located down the cliff in a spot within south Encinitas, if you blink too hard, you'll miss it. The best landmark to alert you of the fast-approaching parking lot is the famous "golden onion" spiritual center after which the beach is named.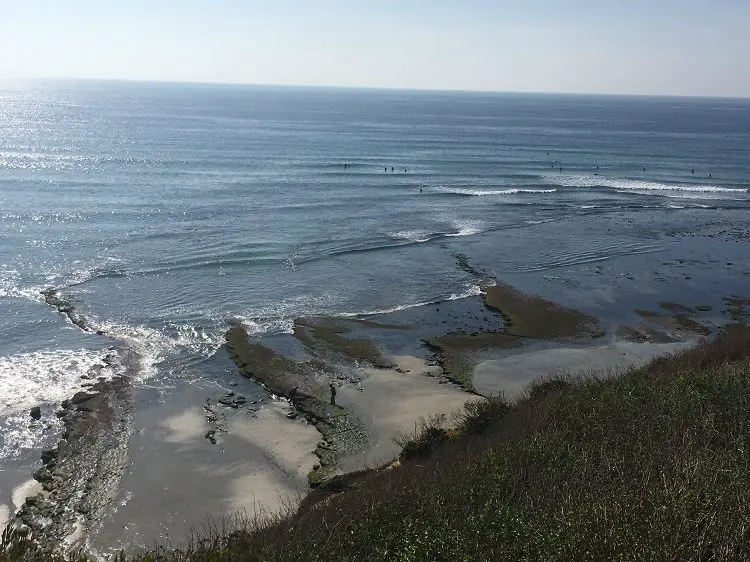 Just past those famous golden orbs is a small parking lot on the right on the Coast Road. It's well worth the struggle to find parking if you score a front row seat with an expansive view of that ocean and the tide pools exposed below (during low tide, of course).
A personal favorite of mine for the views, number of places to explore, and perfect perching rocks to watch the surfers do their thing. Five stars for Swami's in every category…I'm not biased or anything.

Tide Beach Park in Solana Beach
This San Diego tide pool is just north of Del Mar (in north county) and offers some great tide pool viewing if you aren't afraid of some stairs.
Access is at Pacific Avenue and Solana Vista Drive down a long staircase to the cove. Tide pools are exposed at the north end at low tide.
Point Loma: Cabrillo National Monument Tide Pools

This tide pool is located in a San Diego beach area that's about 25 minutes south of the city on Point Loma. It's within the Cabrillo National Monument Park, and you'll be glad to know that if you have a National Park Pass, you get in free.

Otherwise, the park is open from 9am – 5pm every day and has a fee of $20 per car that's good for 7 days. Check the tides before you go. But if it happens to be higher tide than you'd like, this park is a treasure to visit either way!
Best San Diego Surfing
Black's Beach
Black's is one of the best San Diego surfing beaches for hardcore surfers. It's located in La Jolla, and consistently wins best vote for expert and seasoned surfers. It is not for the faint of heart or energy as it requires an extensive hike down to the shore, but for local experts, it's worth the trek.

Seaside in Solana Beach and Del Mar Shores
These two San Diego surf spots are great for surfers in the intermediate level — located in north county. They both offer lifeguard services most of the year and bathrooms nearby.

Windansea in La Jolla
Windandsea is a surfing beach for experienced surfers only. It has some of the most consistent and impressive San Diego surf in the area.

Oceanside Beach near the Pier
Oceanside offers some amazing surfing for those with plenty of experience. The surf is often large and has various levels of rip currents on any given day. Given the proximity to the Oceanside Pier, this isn't a surf beach for beginners.

For Beginner Surfers
To find beginner surf spots in San Diego that are great for novices, we evaluated many factors and took into account local surfer's opinions. We highly recommend our full article on the subject.

However, the short answer to the very best beach for a beginner surfer is La Jolla Shores.

Here are a handful of others that are "kind" to beginners:

Ocean Beach near San Diego.
Tourmaline Beach in La Jolla.
Crystal Pier Beach in Pacific Beach.
Fletcher Cove Beach (Pillbox) in Solana Beach.
La Jolla Shores
The best beach for beginning surfers, hands-down, is La Jolla Shores. The Shores offers a one-mile stretch of beach that's gentle enough to quell any novice surfer's fears. It's located just to the north of La Jolla Cove and the waves have a very gradual slope that's easy to master your balance in the standing position.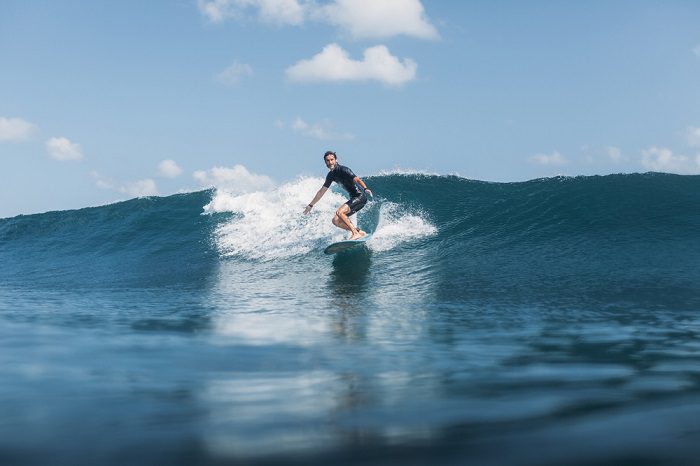 Best Beaches in San Diego for Walking
Why would we dedicate a section to walking beaches? Seems like any beach in San Diego would be good for walking, right?
Not exactly. Some beaches in San Diego have more rocks than sand and can be tricky or even unwalkable at high tide. Other beaches are very narrow or have a steep slope near the water so it's harder to walk longer distances.
These beaches are hand-picked, so to speak, for their amazing walkability. They're wide and long without many or any rocks to get in the way.
San Diego Beaches Best Boardwalk
The Mission Beach to Pacific Beach Boardwalk is one of the closest beaches in San Diego and offers a 3 1/2 mile walking path with stunning views of the Pacific and plenty of room to bring your skates and bikes as well.
You'll love the huge variety of shops, snack places, and restaurants to choose from along the boardwalk. Did I mention the roller coaster?
The Giant Dipper roller coaster is a beach-front classic that's been a staple of Belmont Park amusement center right on the Mission Beach boardwalk.
Del Mar City Beach
Del Mar Beach is another beautiful and expansive beach in north county that's perfect for walking or running. You can head north and hit the beaches toward Cardiff and Encinitas or walk south and end up at Torrey Pines State Beach.

Solana Beach in San Diego's North County
We've recently rediscovered what a treasure Fletcher Cove beach is in Solana Beach. Not only is there a beautiful grassy park with picnic tables, bathrooms, and showers — but the walking is fantastic.
Head down the gentle slope of the concrete walkway leading to the sand, and you're greeted by a long and wide beach with incredibly blue water that's just begging to be splashed in while you walk your cares away.
Tamarack Beach in the North County town of Carlsbad
This expansive beach in San Diego's North County is easily accessible from the road and offers three different choices for walking. You'll also find a nice jetty to fish from at the south end.
You can choose to walk along the water if you don't mind a bit of a slope toward the surf. It could be tough on ankles if you walk for a long distance. But, the best walking paths for Tamarack are the sea level concrete boardwalk and the upper street level path.
Both are perfect for walkers and joggers. The upper pathway is paved and has a stunning view of the ocean! We've seen dolphins more times than I can count by patiently looking out over the sea from that upper path — especially just after sunset.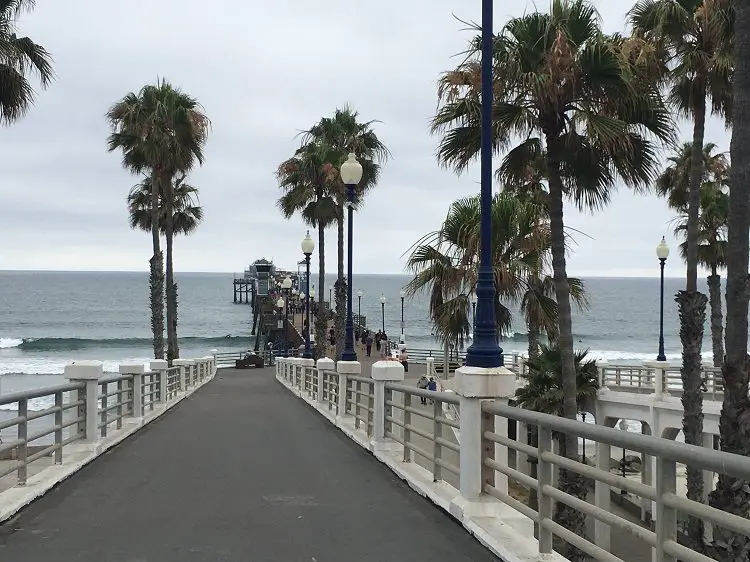 Oceanside Pier
North of Carlsbad lies the Oceanside Pier and the gorgeous beach that extends from it in both directions. The beach north of the pier is Pier View North, and is a little less busy than the beach to the south — which is Pier View South.
Both beaches offer a good stretch of sand for walking.
The most special part about this North County beach is the walkability at really low tide. When the tide is at less than 1 foot, the water recedes under the pier for quite a ways. It's just beautiful — and a great place to find sand dollars!
Moonlight State Beach in Encinitas
Moonlight is a good walking beach if you don't mind some rocks (beach pebbles). As long as you're not there at really high tides, the beach rock isn't a problem. With tides that are 2 feet or less, you can walk the short mile south to the fascinating tide pools at Swamis Beach.
Beaches in San Diego to Avoid at High Tide
Unless you're a surfer, there are beaches that just aren't fun to play or walk on during really high tides. Several San Diego beaches really are dependent on the tide for optimal conditions. Most of these are found in North County.
But how do you know when it will be high tide?
There's a great tide app we use on our phone that's super convenient and accurate. Or if you're on a laptop, here's a reliable source for checking the tide levels before you choose which of the San Diego beaches to choose for the day.
Tricky beaches to walk at high tide
San Elijo Beach in Encinitas is a great surf, walking, and tide pool beach as long as the tide's not high. It's not passible for very long when high tide reaches the huge piles of beach rock and boulders on the east edge.
Swamis Beach is just down from San Elijo and has the same issue at high tide. You'll have a very short and narrow stretch of beach to work with during high tide.
Tamarack Beach's north end can get pretty hard to navigate and will stop you short once the tide rolls in. Otherwise, at lower tides, it's a treasure trove for sea glass hunting.
Oceanside Pier (the south side of the pier) can get fairly narrow at high tide depending on the season. The length of your walk could be shortened by big piles of rocks as the tide covers the walking surface of the sand. You'll also have to walk up and around on the sidewalk level to get to the beach on the north end of the pier when the tide is up.
San Diego Beaches for couples & great views
Sometimes you just need to be off the sand with an aerial view to appreciate the full weight of beauty around here. These beaches offer outstanding quality in the following areas:
Great sunset views
Romantic outside date with your partner
Phenomenal photography opportunities (and selfies!)
A gorgeous place to run/walk/exercise
Meditation and relaxation
Fantastic lookout points for dolphin watching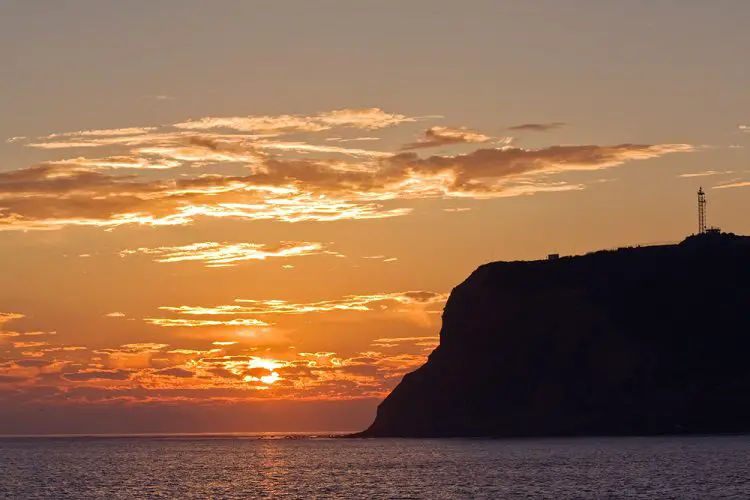 Sunset Cliffs at Point Loma
Located about 20 minutes from San Diego city proper is Point Loma. It's a hillside peninsula bordered by the Pacific to the West and the South. It doesn't have an official beach, but the views from Sunset Cliffs can render you speechless.
There are three lookout points for Sunset Cliffs.
Ladera Street
Luscomb Point (follow Sunset Cliffs Blvd. until it ends at Hill St.)
Just north of Osprey Street
Swamis Beach in Encinitas
This is my favorite beach to enjoy with my husband. Swamis is situated below a huge cliff, so the views from the parking lot and benches along the top bluff are spectacular!
You can easily spend hours on the benches up there mesmerized by the expanse of the sea, watching the many experienced surfers do their thing, and of course, watching glorious sunsets from such a vantage point.
Oceanside Pier
Oceanside Pier has several great views to choose from. The walkway on the upper street level spans a long distance and you can easily walk either way and have a magnificent view of the ocean.
Another great view is the walk to the pier. It's a gentle slope down toward the actual board planks of the pier, and the views of the ocean are close enough to spot dolphins on a regular basis.
And then of course, you've got the pier itself. Don't miss walking the full length of the pier and looking down on the surfers who will seem right underneath you … and they are!

The end of the pier has a fantastic view, and it's very romantic to stand with your significant other and stare out into the middle of the sea. Sunset from this viewpoint is terrific.
Torrey Pines State Natural Reserve
Just north of Del Mar and before you get into La Jolla is a magical reserve that offers one hell of a view. If you're into hiking or photography — or just amazing sunsets — there are few vantage points in San Diego better than this one.
San Diego Beach Gear Rentals
Most beaches in the San Diego area and North County will have rentals of some type for your day at the beach. Whether it's a boogie board, surfboard, wetsuit, bike, or umbrella — there are plenty of places that have you covered!
Pacific Beach Surf Shop
PB Surf Shop is the oldest surf school and shop in San Diego. It's conveniently located on the boardwalk on Pacific Beach.

You should read the Yelp reviews for this one! People rave about the staff and their willingness to go above and beyond to help visitors find just the right board or surf spot for the best experience.

Did I mention they also offer surf lessons? Yep … and their customers can't say enough about the instructors either!
Here are some things you can find at PB Surf Shop:
Surfboards/bodyboards
Wetsuits
Beach chairs & umbrellas
Rashguards
Towels
Fins
Bikes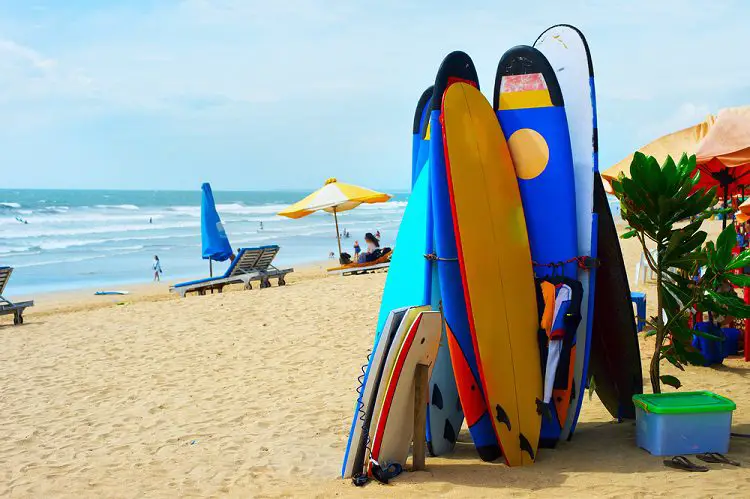 Ray's Rentals Mission Beach
Ray's is located near Belmont Park in Mission Beach and is well loved by the community (and Yelp reviewers!) and visitors alike.

The location for bike renters couldn't be better! It's right in front of the Mission Bay bike path. Just watch out on busy days as there are plenty of skaters, bikers, runners, and walkers.
Here's what you can find at Ray's Rentals Mission Beach
Electric bikes & road bikes
Every kind of board: surfboards, bodyboards, skateboards, paddle boards
Snorkel gear
Kayaks
Baby strollers and bike accessories
Wetsuits & fins
Rollerblades
Surf Lessons
Mitch's Surf Shop La Jolla
Mitch's is another surf shop icon that's been serving the community since the 60s. You're sure to blend in with the locals if you sport some of Mitch's gear … especially the t-shirts.
Here's what you can find for rent at Mitch's Surf Shop
Soft surfboards (good for beginners)
Fiberglass boards
Boogie boards
Wetsuits
Paddle boards
Snorkel gear
Progression Surf Shop in Encinitas (Leucadia)
This great family-owned surf shop has everything you need to enjoy a day in the water. Besides the AMAZING rental prices which include a full 24 hours! — they have a huge selection of used boards as well.
Here's what you'll find at Progression Surf Shop
Soft surfboards for beginners
Hard boards
Body boards
Wetsuits
Fins
Dolphin Watching Beaches in San Diego
My favorite reason to stand and stare out at the ocean here is the good chance of seeing dolphins meandering by. Most of the time it's such a gentle motion — up and forward with the dorsal fin making an appearance for a split second — that they blend in with the movement of the water offshore.
The thrill of seeing them fishing — where they come out of the water a good bit more and are often in large groups — is something else. So I highly recommend spending a little extra time breathing in the salty air and looking for them.
While you can spot dolphins every now and then from the beach level, it's pretty hard to do. The best way to see them is with a panoramic view from a higher point like a cliffside, pier, or an upper walking path.
Dolphin watching takes a lot of patience and a keen eye. You'll need to train your eyes to watch for small movements that look different from the choppy water that's beyond the surfers and breaking waves.
Sunny days are often helpful because dolphin fins glisten in the sun as they surface again and again. However, we tend to spot them mostly at or just after sunset when the sun isn't as much of a help.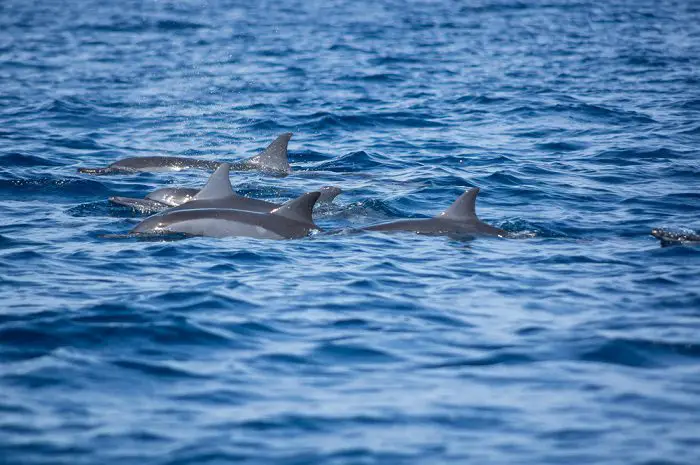 Dolphin watching tips
Be patient!
You don't actually have to look wwaaayy out over the ocean. Dolphins are usually just a little beyond the surfers here. So make sure you're not trying to look a mile into the distance.
You'll mostly want to look from a high vantage point such a cliffside, a pier, or an upper walking path.
Let your eyes scan the same patch of ocean for a while. Watch the same area carefully and if you don't see anything for 5 minutes, look in a slightly different area and keep repeating.
It's small movements you're looking for. A fin or two moving slightly up and back down into the water.
Sunny days help because the sun bounces off their skin so it glistens and can catch your eye better.
Most dolphins we see are in small pods (1-6 dolphins), so you likely won't see a whole bunch of fins. That's not to say there aren't sometimes very large groups … which is really exciting!
Our favorite dolphin sighting beaches
We definitely have some favorite North County beach areas for dolphin sightings. The place where we see them most consistently is off the Oceanside Pier. I'd say 80% of the times we've been down there, we can stand on the pier and eventually find a few passing slowly by in the distance.
On occasions when we don't see dolphins, we often see our goofy little seal friend down there (we call him Bobblehead). He loves to duck his cute head in and out of the water near the fishing lines.
Our other favorite spot is the panoramic view from the parking lot overlooking Swamis Beach in Encinitas. In fact, when we moved here, this was the place we saw our first dolphins. We were standing at the middle level of the long staircase that take you to the sand.
More places to look for dolphins in San Diego
Point Loma — a peninsula with an outstanding view. Some see whales from here as well.
Mission Bay — there are dolphin cruise boats (or you can rent a boat or kayak as well) that will take you around the bay where dolphins are frequently found playing and interacting with the boats.
Try the cliffs overlooking Fletcher Cove in Solana Beach … that's a great lookout point.
We've seen them several times from the San Elijo beach campground (Encinitas) parking lot. You've got a sweeping view of the ocean from up there.
And lastly, there's Tamarack Beach in Carlsbad — the walking path on the street level. We've had the most luck at sunset or just after.
Beaches in San Diego with Fire Pits
**Keep in mind that it's never legal to have a fire on San Diego county beaches unless it's in a contained fire pit.
• Pacific Beach
• Ocean Beach Park
• South Mission Beach
• Imperial Beach (City Beach)
• Coronado City Beach
• Moonlight State Beach Encinitas
• Harbor Beach and Pier View South in Oceanside

Black's Beach San Diego
Our beach list wouldn't be complete without an honorable mention to Black's Beach in La Jolla. A secluded beach that's long been a nudist hangout in north county. Black's is miles of sand that stretches along Torrey Pines State Beach underneath the famous Torrey Pines Golf Course to Scripps Beach in La Jolla.
The nudity zones are very well defined, so if you're feeling adventurous, make sure to follow the rules. Since it's a secluded beach area, this may be the perfect spot to experiment in your birthday suit.
There you have it — a partial list of the top beaches in San Diego you need to visit. Let us know what your favorites are and I'll add them to the list.