Can't-Miss Ice Cream & Gelato in North County
San Diego's BEST Ice Cream just might be hiding in North County!

But first: Gelato vs ice cream . . . what's the difference? 


We're glad you asked. There's a BIG difference in ingredients as well as consistency and flavor. 
Ice cream is as American as apple pie — and no apple pie is complete without it, in our humble opinion. 
But, gelato is a dreamy Italian concoction that's been pleasing pallets for centuries. 

HERE ARE THE DIFFERENCES BETWEEN GELATO AND ICE CREAM
Gelato is egg-based and therefore more like custard, which makes it rich
Gelato has much less sugar than ice cream
Ice cream has a lot of air whipped into it
Gelato is less airy and very creamy despite having less milk fat
Ice cream is served at a colder temperature, so it's firmer
Gelato is served at a slightly warmer temperature so the flavors really stand out
There is no wrong choice where it comes to the two. It just depends on what you're in the mood for. Gelato is generally served in smaller cups/portions because it's so dense and rich (less air, remember?). 
And the ice cream we're used to here in North County comes in massive quantities. One scoop at Handel's or Cali Cream can almost be dinner! And two scoops is definitely dinner for me. 
So, if you're really hungry for a mound of sugary, creamy delight … go for the ice cream. But if you've got a craving for a super-rich gourmet-level taste of heaven, get the gelato. 
Now, let's talk about where to get the best ice cream and gelato in North County — I'm getting hungry. 
Best Ice Cream & Gelato in Encinitas
If you're down in Encinitas, there are two places that are absolutely to die for. 

CALI CREAM
Cali Cream is on Coast Highway 101 just at the intersection of Encinitas Blvd. where you would go west to Moonlight Beach. It's on the northwest corner there. 

*Note that Cali Cream used to be Handel's in Encinitas, but rebranded in summer of 2020. Same owners, just wanted to branch out on their own so they could source ALL ingredients in Cali! Awesome.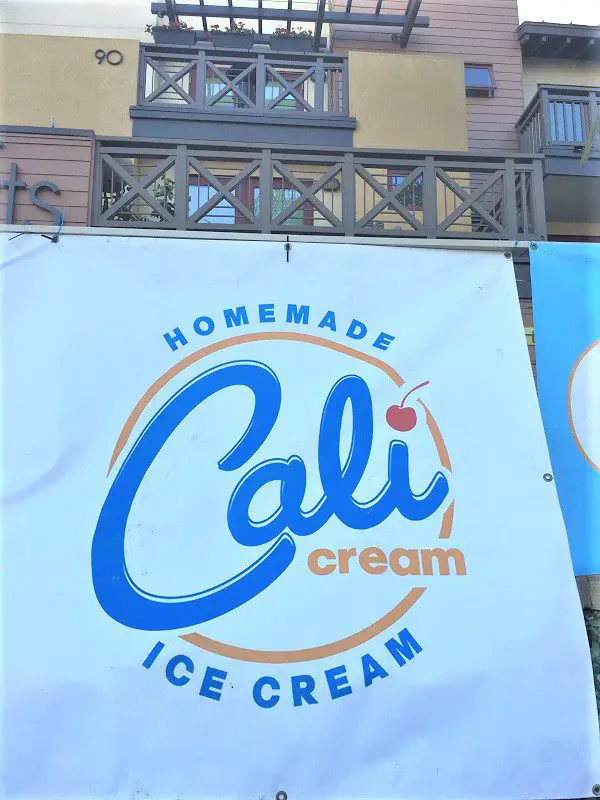 It's an easy walk from Moonlight up the hill to Cali Cream, and that's an excellent reason to squeeze a massive ice cream cone into your glorious beach day. Is that heaven, or what?!
Cali Cream has a massive selection of homemade flavors that will surprise you. It's really hard to choose the first few times you go there. But, it gets easier … if you're good at decision-making.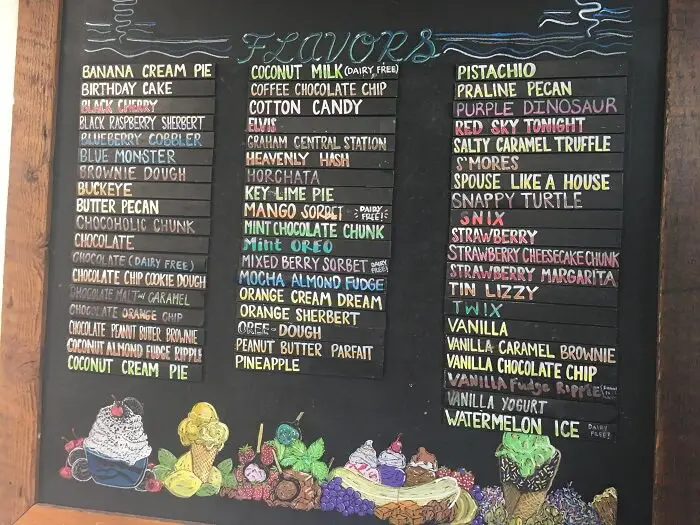 Stand-out favorites are Graham Central Station and Spouse Like a House. There's so much goodness mixed in, I couldn't even tell you what's in there. But both are out of this world. 
For summertime, I highly recommend their Key Lime Pie. Sooo good, and refreshing. It's got tons of flavor and big chunks of graham pie crust mixed in.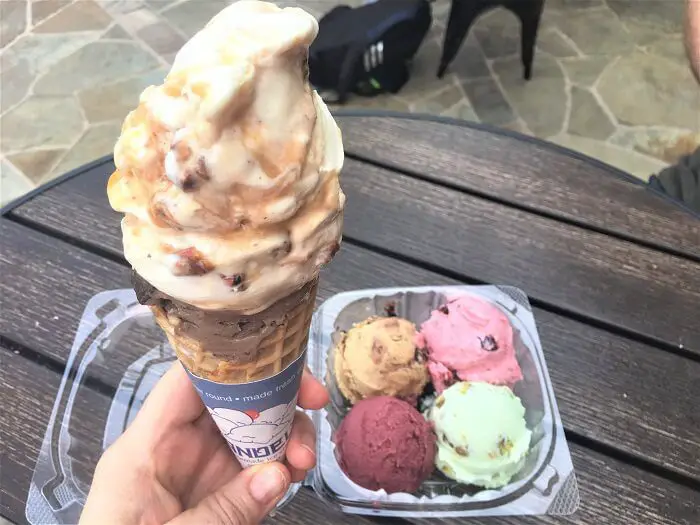 Gelato 101 is the other don't-miss place in Encinitas. 

[It was formerly known as Moolight Yogurt and Ice.]
When you walk up to the place, you can't help but smile. It's got such a zen, casual, summer beach town vibe. The seating areas are all super-cute and it's just so relaxing to sit and enjoy your goodies.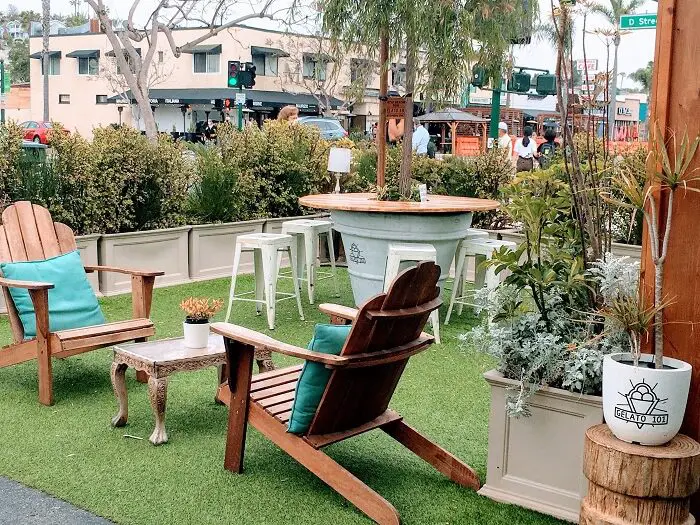 Of course, with gelato in the name, you can guess that that's their specialty. But, on a side note, they also have insanely good smoothie bowls and really yummy boba tea. 
Back to the gelato . . .
One look into Gelato 101's window of delights will have your head spinning as to which one (or three) you want to try.  The flavors do change from time to time, but you can't go wrong with any of them!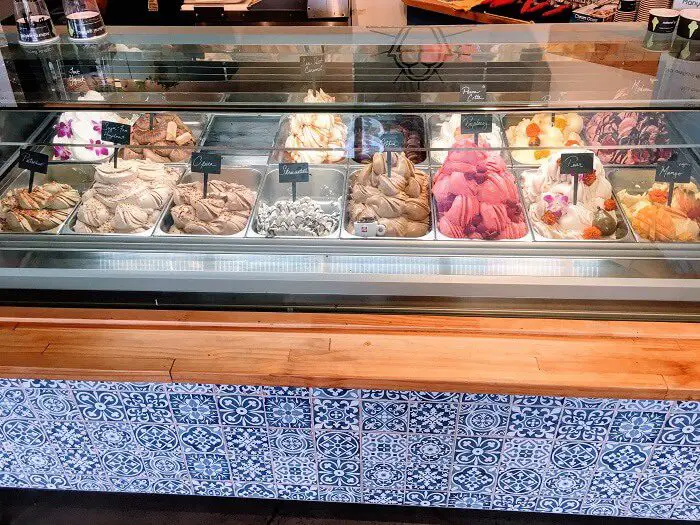 They offer some classic flavors of gelato like stracciattella (vanilla with shaved chocolate bits), hazelnut, and pistachio as well as their very unique black vanilla, lavendar, and strawberry chocolate chip — among other seasonal favorites.
You can't go wrong with anything at Gelato 101. I promise. 
Best Ice Cream & Gelato in Carlsbad
Head a bit north to Carlsbad Village and you'll find a few more places to add to your ice cream and gelato favorites list. 
Once known as Gaia Gelato, Gelato Love is pure Italian delight. It's easily one of the best gelato shops in North County.
Owned and operated by a family with Italian heritage, it's the real deal. 
Each batch of Gelato Love's creamy goodness is home made and full of Italian love … you can taste it. 
They have a stunning number of flavors. More than any gelato shop I've been in. So, plan on going several times so you can decide which is your favorite. I recommend them all! 

HANDEL'S ICE CREAM
Handel's Ice Cream in Carlsbad Village is a town favorite for sure. It's one of our favorites as well. In fact, since moving to Vista a year ago, my hubby and I are probably on our 86th scoop (each!) between Handel's and Cali Cream in Encinitas. 
Handel's often has a line, the size of which depends on the day, the hour, the vibe, the weather, the season. Well, pretty much, you never know what you're going to get when you walk up. 
But that's how good the ice cream is. The line has never been a deterrent for us (and isn't for many people judging on the amount of business they do). And besides, who doesn't love chilling on a palm-tree lined street with amazing shops staring right at you. 
Handel's ice cream is worth the wait. Their boards announce dozens of flavors — I think my brother counted 50+ one time! And all of them are good.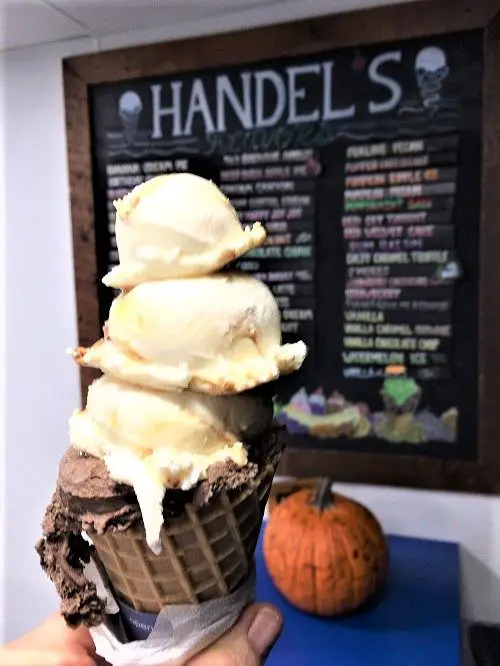 They've been in business since 1945. I'd say they've perfected the art of making stellar home made ice cream. 
You'll find many flavors with popular cookies and candy mixed in. There are also varieties of pie like coconut cream and banana cream. They usually have a couple types of cheesecake flavors, and always offer their amazing chunky chocolate chip … sooo good! 

Best Ice Cream in Oceanside

Further north, in Oceanside, you'll find some delicious ice cream served up with old-fashioned charm.

NANA AND POP POP'S SWEET SHOP

Nana and Pop Pop's Sweet Shop serves up a bit of nostalgia with their delicious ice cream. 
People love the atmosphere, and especially the owners and staff! The cute hand-painted floral designs on the floor are a treat for the eyes as well. 
They have a great selection of dreamy, creamy flavors at a decent price. If you love fruit flavors, you'll enjoy their authentic Oregon berry — or if you're a salty/sweet fan like I am, go for the salted caramel pretzel which will be first on my list to try when I go next week.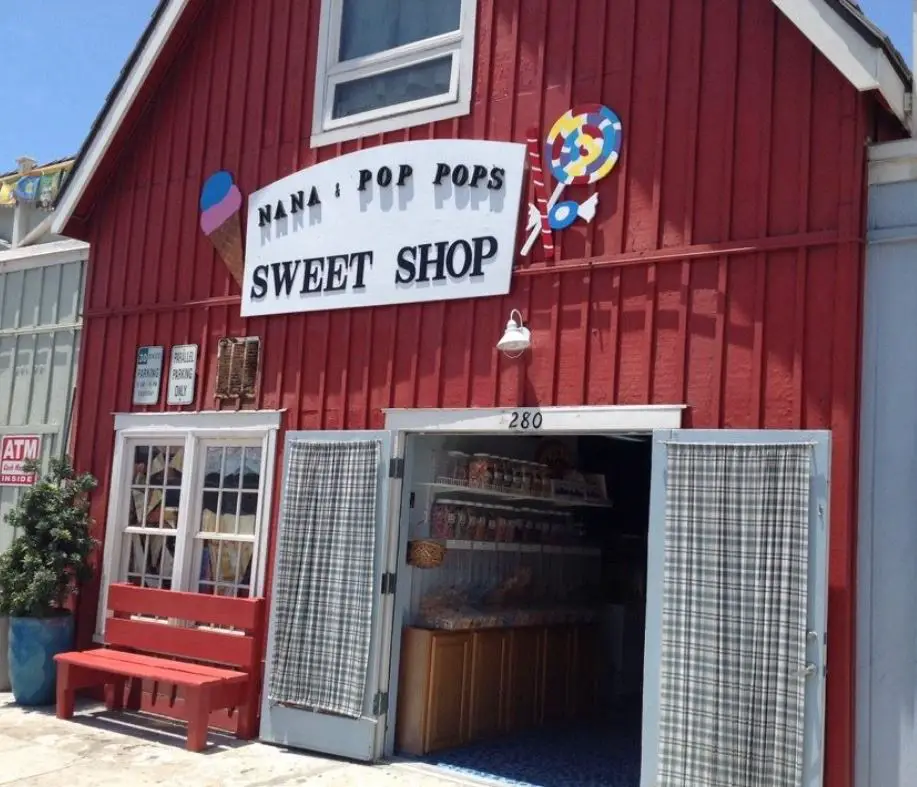 The shop isn't all about ice cream either. I hear the taffy is terrific and the candy they offer is a blast from the past. If you're ever in Oceanside or near the harbor, stop in at Nana and Pop Pop's for ice cream — and maybe a throw-back candy from your childhood. 
Yelp fans rated Ocean Rainbow as their top pick for best ice cream in the Oceanside area.

We haven't stopped in yet, but it's on our list the next time we're in Oceanside. We'll post pictures when we do!
Many of their repeat customers come for the Mexican ice cream specialties such as cactus juice and chocolate dipped paletas. They're also known for fresh and unique fruit flavors such as guava, mamey, and coconut. 
And if you're really adventurous, try their rice, burnt milk, and cherry amaretto flavors!
We hope you've enjoyed our list of best ice cream places in San Diego's beautiful North County. If you're ever in the mood for an ice cream tasting, hit up any one of these ice cream or gelato shops for a little taste of heaven on earth!