Are Foam Surfboards Good for Beginners?
As a beginning surfer, there's lots of advice and varied opinions about which type of surfboard to start with. But after talking with many local surfers, and my daughter who's learning, I've found a reliable answer.
Foam surfboards are the best fit for beginner surfers because they're soft, which hurts less during falls, durable, buoyant for easier paddling, lightweight, and have a lot of surface area which provides stability when standing up.
Some surf beginners make the mistake of skipping the "easy boards" and go straight for hard shortboards. 
The thing is, big surf is what shortboards live for, and small surf is the perfect match for longboards. Which type of surf is actually doable for beginners? 
If you said small waves, you'd be right. 
Beginner foam surfboard perks:
They're lightweight and easy to carry.
The soft foam doesn't hurt as much when you wipe out.
A long foam board gives lots of space to position your feet.
Foam surfboards are much cheaper than regular boards.
The foam surfboard is very wide for easier standing practice.
Foam boards are less slippery for beginners.
Soft boards are more durable and harder to dent.
The material of the board won't scratch your car.
Foam is very buoyant and stays afloat well with rough surf.
The buoyancy also makes it much easier to paddle out.
It's an easy-care board that only needs rinsing after use.
Ignore any mild kidding you might hear about kooks (beginners) on a "foamie". 
If you want to have the last laugh and master the softer skills of surfing (sitting like a pro, reading the waves like a well-loved novel, paddling out with ease without busting a hernia) … get the foam board. 
Besides, don't let the big guys fool you. Many experienced surfers shred on longboards all day long. They're just plain fun. 
We'll cover everything you need to know about what to get first. You'll likely stay in the beginning surfing stages for a while, but a long, soft board will move you forward faster. 
*We are a partner with Amazon. If you click and make a purchase, we earn a small commission.
Why a foam board is best for beginners
Besides the few things we touched on above, here are the specifics of why the soft-top longboards are so great to start on.
If you get the 8+ foot board, you'll be better off when trying to catch waves, popping up and down to practice standing, and it's just easier to control and not slip off of. 
Foam boards are softer and lighter than their fiberglass counterparts which results in less injuries when your board pops you on the head — and it will.
Your arms will appreciate a lighter board. After hours of surf practice, you'll be relieved to carry something lightweight to the car.
A foam board is much easier to paddle. And 90+ percent of your time will be spent paddling out to the surf. 
Maneuvering a shortboard takes quite a bit of skill and surfing experience. When you're new, a longboard enables you to work on foundational surfing skills such as reading the waves and practicing your balance without having to fight with an advanced board as well.
Beginner Surfboard Size
The extra length and width on a foam longboard are exactly the reason these make great beginner surfboards. 
The rule of thumb is usually to add around three feet of length to your body height for the right size starter board. That can be more of a preference, though. 
It's perfectly fine to start with a board that's anywhere between 8 feet and 10 feet long depending on your height and comfort level. At minimum, get an 8-foot board.
You won't regret it when you're trying to master popping up and down on the board.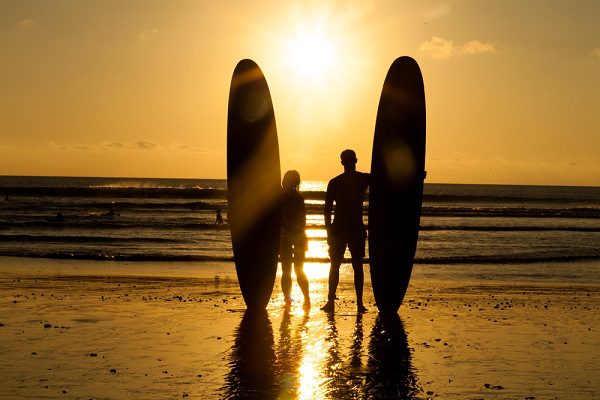 What to look for in a foam board 
Besides a good length, three fins are usually recommended for stability and a bit more control. One fin will work but may not be as easy to navigate with.
Ideally, a board that comes with a variety of fins you can try for different configurations is a great option. 
UV coating that resists sun and water so graphics and top coat won't melt off. 
A quality water-resistant skin so it won't absorb water. 
Look for good internal support in the middle of the board. 
Rigid lines of wood or plastic (called stringers) should run most of the length of the board on the inside. This adds the rigidity the foam needs to be stable and strong. 
Good width so you have room to stand and move around. 
Waxing a foam surfboard … is it necessary? 
You might be wondering if it's a good thing — or even necessary, to put wax on a board if it's made of foam. And if so, what kind of wax would you even use? Let's discuss.
As a general rule, it's always a good idea to apply wax to a foam surfboard. A wet board is slippery no matter what it's made of, so a good coat of wax will help you stay on, stand up, and enjoy your day in the surf. Many foam boards advertise "no wax", but it's much better to have a surface you can grip, and it certainly doesn't hurt the board in any way.
Wax adds a sticky surface that gives more traction when you're trying to paddle out and when learning to stand up. Most boards use a base coat of wax first, which is very hard wax — then a top coat that adheres to that.
However, since a foam board is soft with a little texture on the top anyway, a base coat might be pretty tough to apply since it's so hard. And it's not totally necessary since the sticky top coat will stay on a foam board just fine.
The main thing you'll need to know is what kind of top coat sticky wax to get. The types of wax correspond to the water temperature you're planning to surf in. In California the water temperature is cool (especially compared to tropical islands like Hawaii). 
San Diego water temperature varies throughout the year — ranging from 58 degrees to 68 depending on season. Most surfers here use a cool top wax for the colder months and switch up to a warm top wax for the summer months.
This cool to mid-warm wax by Mr. Zogs is in the perfect range for San Diego water : 58 – 74 degrees so you don't have to change with the season!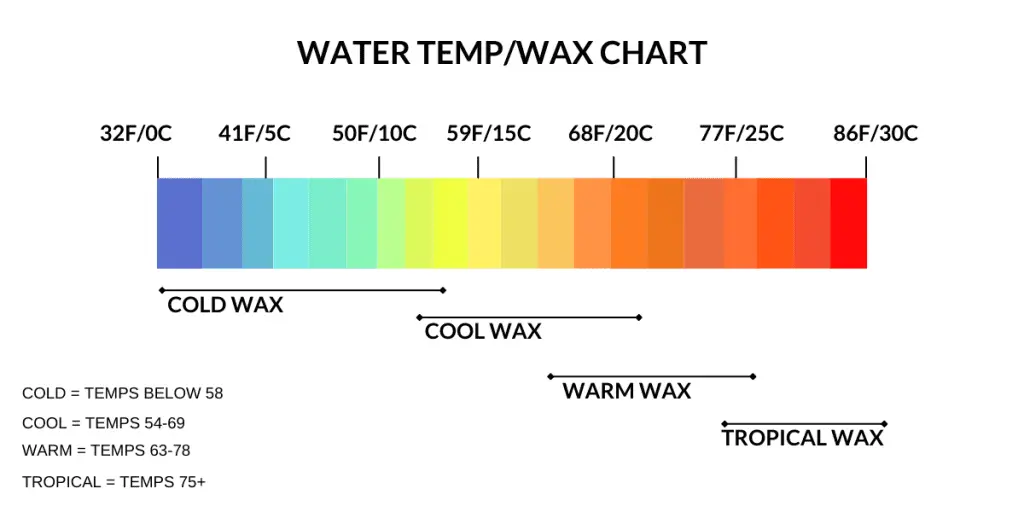 Where to buy surfboard wax:
Amazon has a great starter kit!
If you're in a beach town already, all the local surf shops will have wax.
Beachwear and souvenir shops like Wings in Oceanside carry some wax as well.
You might also find it at Walmart, but make sure it says "in store" before you go.
How to wax a foam surfboard
If you're new to surfing and have your foam board ready for your first ride, you'll want to wax it before taking it out. The good news is, foam surfboards are quick and easy to wax.
The general rule is to lightly wax a foam surfboard in a circular motion on the top and sides of your board, avoiding the top grip pad and bottom of the board. There's no need for fancy designs, just put a good layer of wax going in various directions across the top of the foam board.
Tips for waxing a foam board:
Start with a dry board.
Use the right kind of wax for the water temperature.
Start after the grip pad at the end of your board.
Lightly rub the edge of wax bar in circles around on the top of the board.
Go back and lightly rub in the opposite direction for good coverage.
There's no need to put on a heavy coat or a special pattern.
Wax the sides (rail) of your board.
Don't ever wax the bottom or it will slow you down in the water.
Our top recommended soft surfboards for beginners
There just aren't that many foam longboards that we can whole-heartedly recommend. So, we've been very selective in what we've listed here. 
Of course, you always have local surf shops that can hand-pick a board for you, and that's terrific. 
By all means, if you have the access and funds to do that, support them with your patronage! 
As the granddaddy of the foam longboard, there's a reason the Wavestorm boards hit our top spot. Almost every beginner starts on one. 
There are a couple others that deserve a shot as well, so we will include those also. 
The Wavestorm 
Wavestorm foam longboards are the top board purchased by beginners. 
These boards have quality construction. 
Strong foam core without harmful toxins, chemicals, or resins.
A rounded boxy rail (edges of the board) for added floatation and stability.
Triple stringer (strong strips of wood running the length of the board) construct for rigidity and strength.
UV and water-resistant deck to keep graphics in place and resist water absorption.
They also come with a traction pad for extra back foot stability, a leash, and multiple fin set — a great deal for the money! 
Recommended weight capacity is 200lbs.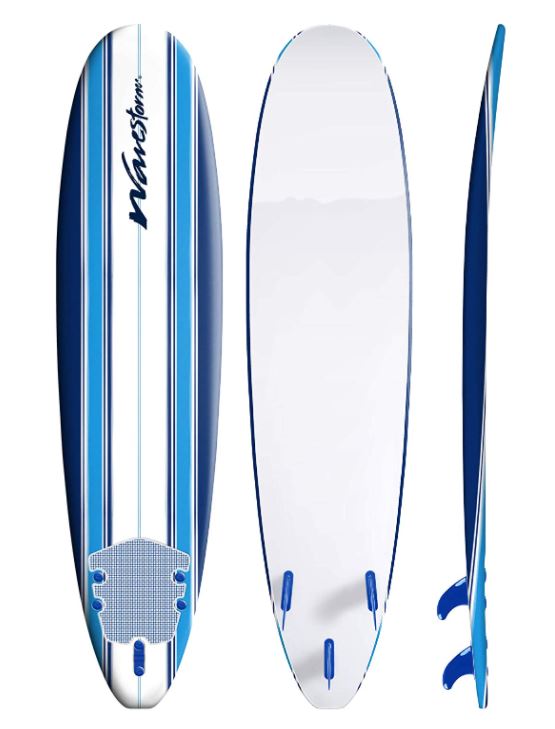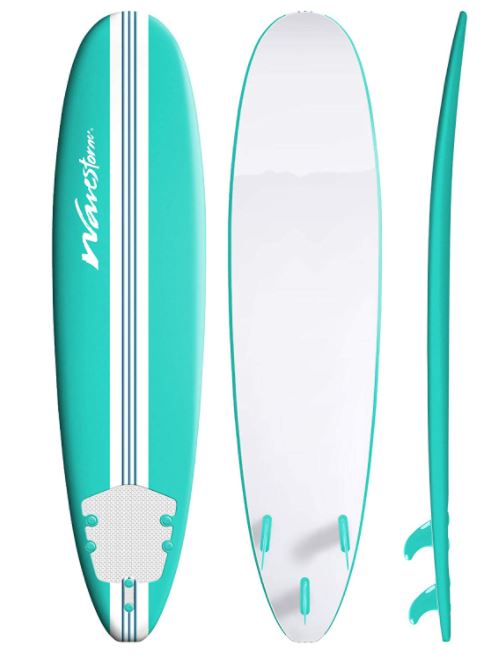 Rock-It Surfboard
A Rock-It beginner board is a good choice as well. This company has a special eye on environmentally responsible practices. If you're an environmentalist at heart and love the water, this one might be for you. 
Made with recycled EPS foam cores
Heat laminated with no harmful toxins of any kind
Three wood stringers (interior strips of wood running the length of the board)
Color-fast and UV resistant top layer
Textured top for better grip
Good for weights up to 220lbs
Zebra-striped pattern on the bottom as possible shark deterrent (research-backed!)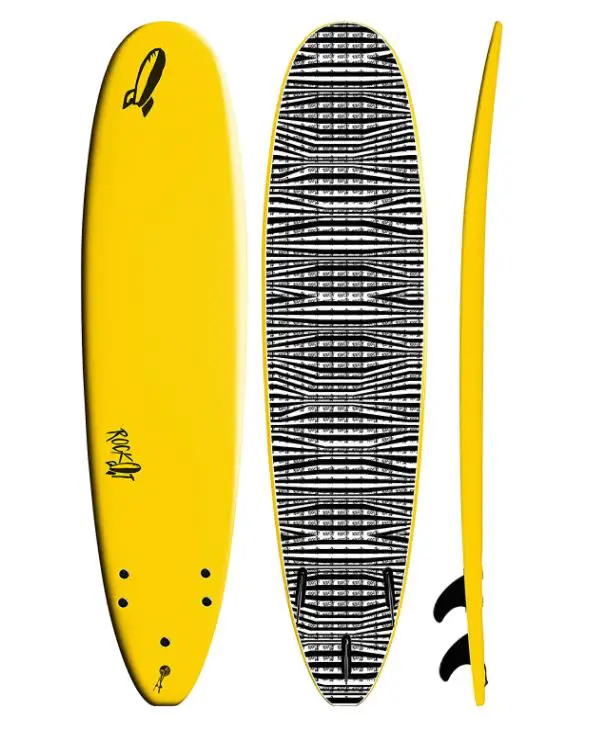 Paragon Surfboard
Paragon beginner foam boards are built to be light and buoyant,  perfect for a beginner. It's a fast soft-top that can handle some bigger waves so even advanced surfers enjoy taking it out for a shred. 
Strong EVA foam core (Epoxy + Polycarbonate)
A high-density wood stringer running the length down the center
Hand-shaped rails (edges) and bottom contour
Texturized foam material for better grip
Finished with a Hexcel cloth + epoxy resin
Good for weights up to 220lbs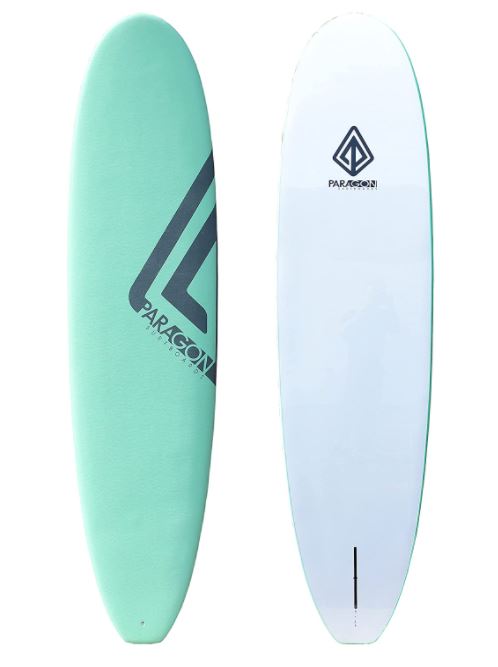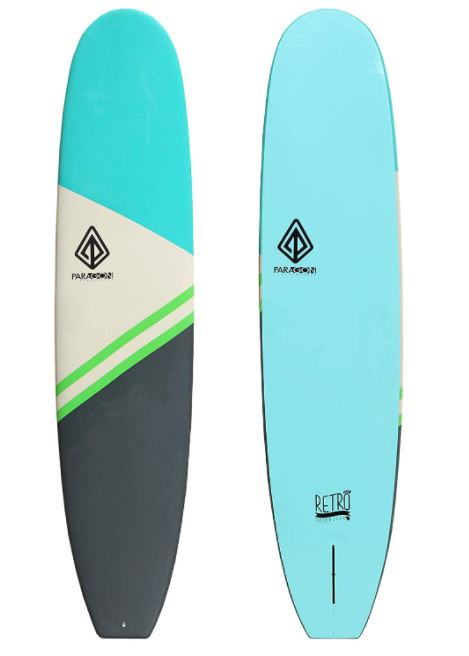 Surf accessories you'll need or want to consider
High-quality leash (buy the same length as your board or a little longer) — some boards come with one and others don't. Even if a board comes with one, often people opt to buy a better quality that doesn't rub or tangle easily.
Balance board training out of the water helps your balance and ability to stand more easily when your learning to surf.
Care tips for your board
Don't clean with any chemicals. The safest way to clean is with fresh water and a damp cloth.
Don't leave foam surfboards (or any board!) out in the sun or in a hot car to prevent melting of top coating/graphics.
Do rinse your board thoroughly after each use.
How to do light repairs on your soft-top surfboard
One of the best things about foam surfboards is their durability and how well they hold up to abuse. But, they can get the occasional ding, crack, or hole.  
When there is a need for a repair or two, luckily they can usually be done DIY with a few cheap materials.
Quick fixes can usually be done with gorilla glue + a homemade patch of stiff plastic like the side of a clear plastic disposable cup.
In fact, many small chunks and dings can simply be filled in with layers of hot glue using a crafter's hot glue gun.
Conclusion about beginner surfboards 
It's always exciting to start a new adventure, and that's exactly what beginning surfing is.
The thrill of being on the water, learning to paddle well, reading the waves, how and where to sit on your board — they're all part of the fun. 
The biggest joy-kill would be fighting with a surfboard that's too advanced for you. A long foamie, as they're called, will make you a better surfer faster. 
Who wants to look like a fool on a short board rather than mastering the art of surfing on a longboard? 
There's a cult following of advanced surfers out there who spend 99% of their time on a board with length — and they can shred just fine. 
** Now that you've got a great board to start with, you're gonna want to know which beach to start with.
Read this for the perfect San Diego beaches for beginning surfers!