What to wear in San Diego right now
The weather in San Diego is fantastic most of the time. But that doesn't mean shorts and flip-flops every day of the year. What do you wear in San Diego through the seasons? 
As a local, that's what I'm going to share with you. Along with how to pack for your vacation here, and what people dress like in San Diego in general. 
You'll get all the tips you need to be best prepared for what to wear each day in San Diego, no matter what month it is. 
We'll start with a seasonal overview of what our weather is like so you'll know what to wear when it's summer and during cooler seasons. 
*We use affiliate links in our posts. If you click and make a purchase, we may be compensated at no cost to you.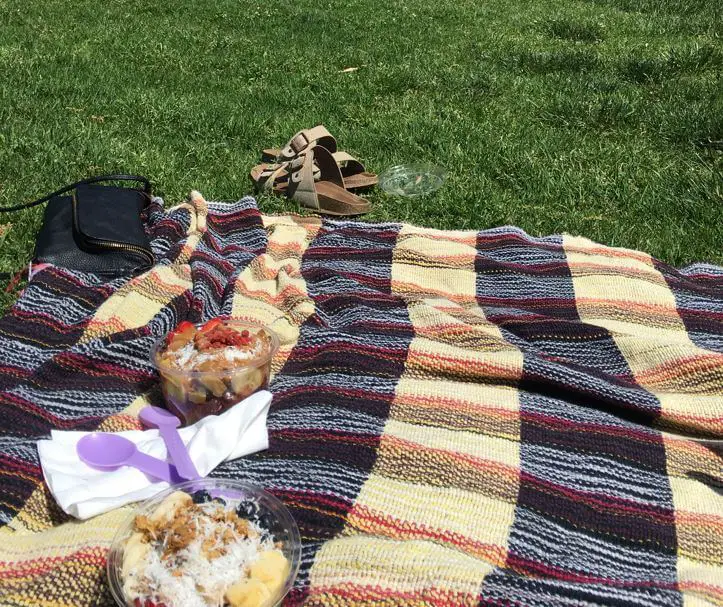 What to wear in San Diego in Summertime
The summer months in San Diego can be really unpredictable, believe it or not. I wrote an article about the misconceptions people have about visiting in summer. 
Sunshine and beaches are the major draw here for summer fun. But don't forget a sweatshirt!
A lightweight one will do, but from May through parts of July sometimes, it can be chilly at the beach. This is due to our May gray and June gloom weather patterns. Not to mention that there is almost always a breeze (sometimes strong) near the ocean. 
Besides shorts, t-shirts, and a variety of summer wear, it's a good idea to bring some ¾ length pants or jeans as well. My go-tos here are jean shorts with casual tops. And I always bring an extra layer. 
Evenings in any season cool off nicely and you'll want to plan for that as well. A cute jean jacket or ¾ length sleeve is perfect. 
Packing list for summer
Jeans/denim shorts
Bathing suit/coverup
A few pairs of casual shorts
Lightweight jacket
Hoodie
Casual t-shirts
Nice tops
Sundress or flowy skirt
Sandals/flip-flops
Walking shoes
Sunglasses/sun hat
Dressing for the fall in San Diego
When summer melts into fall here, we actually get some of our warmest weather – especially in September and October. 
Since there's no predicting how many hot or mild days our falls will have, your best bet is to have plenty of shorts and tops to stay cool as well as a hoodie and long pants for the milder evenings. 
Jeans and cute sandals are almost always a good bet for fall evenings on the town. The dress in San Diego is very relaxed. But don't be afraid to wear the casual black summer dress or a darling Ripskirt. 
Speaking of Ripskirts … I recently got my first one after hearing about them for two years, and I'm in love! It's perfect for summer, spring, and fall here for sure. It's a wraparound with velcro for a perfect fit!
You can paddleboard in it, wear it over your swimsuit, or wear it out on the town for the day or evening. And it's the most comfortable lightweight skirt I've ever worn. 
I got this beautiful sunflower/mustard yellow color for fall. It's gorgeous with a cute off-the-shoulder white top!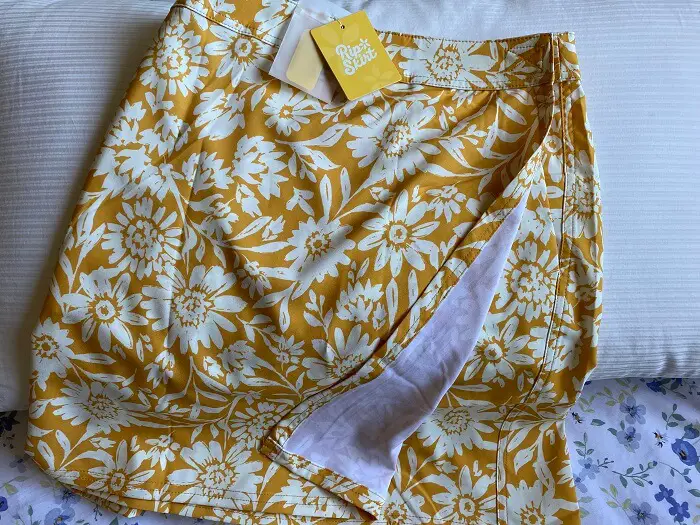 Winter Wear in San Diego
As far as winter goes here, we're lucky to escape extreme cold weather for sure, but it certainly isn't warm all the time either. 
A few years ago, our winter was really cold, especially when we'd take our favorite walk on the pier in Oceanside.  A few times we needed three or four layers to be comfortable. 
If you visit family here for Christmas, be sure to bring a puffy coat and a few extra layers. The cold here is actually a wetter cold than maybe you're used to. It feels different to me for sure than the very dry cold in Colorado. 
Your best bet for winter here is long pants and shirts and maybe some puffy vests and jackets of various weights. If you tend to run hot like me, flip-flops aren't always out of the question.
Many people keep their feet warm here with Uggs. Yes, Ugg-style boots may be "out" in other parts of the country, but they're definitely a thing here, lol. 
Prepare for colder weather here, but don't be surprised if you also need your shorts and bathing suits at the beach. 
Sometimes we find ourselves wading through tidepools on Christmas or New Year's day in shorts. It's glorious when that happens! It's not unusual for Thanksgiving at all. 
That's the greatest thing about living somewhere more tropical. You can have freak 70+ degree days at any time of the year.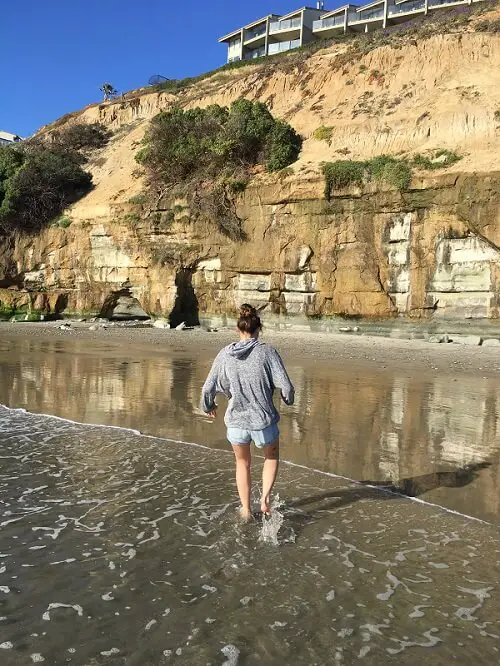 Spring dress code in San Diego
The most unpredictable season here, in my opinion, is springtime. You can have really warm days sometimes, and then some mornings are actually 50 degrees. 
It will warm up most of the time, but if it's a particularly rainy season, or the gray and fog have already set in, you'll want warm plaids and hoodies for sure.  
Spring clothes in San Diego usually consist of jeans and long shirts or sweatshirts during the first and last halves of the day – and shorts and t-shirts in the middle, if you're lucky. 
Our gray and foggy weather definitely starts in spring here, and you'll want to dress in layers. 
When the ocean water is still really cold from the winter temps but the inland land areas are starting to warm up, a layer of marine fog and gray settles in on the coast. 
It can take a couple of months for the sea and land temperatures to mesh enough to be sunny and warm at the same time. 
I usually layer a sweatshirt or flannel plaid over a t-shirt with my jeans or cargo pants in spring. You can definitely get away with flip-flops or sandals some of the time also. 
The main advice I can give you for spring here, is to have a really lightweight rain jacket or windbreaker handy. Our winters and springs are getting rainier lately for sure. 
I bought this sling bag a few years ago for a spring trip to NY, and it's my favorite go-to for a day out at the harbor here as well. 
My rain jacket fits in easily as does a small umbrella, snacks, wallet, and water bottle, etc. 
It's also perfect for a day at the Padres game or the beach! 
Accessories you'll need for San Diego
If you're planning to walk a lot by visiting the zoo, wild animal park, or Balboa Park, definitely bring comfortable shoes. 
Sandals are cute and all, but sometimes you just need the walking or running shoes to be totally comfortable on your feet all day. 
Bring sunglasses. We have many sunny days for sure, but even the cloudy ones can be super bright for your eyes. 
Definitely don't skimp on the sunscreen. You can find it in any store here of course, but I love this Elta MD brand the best. It's pricey but I've never found a more sheer sunscreen for my face! 
I mentioned this shoulder/sling bag earlier, but it bears repeating. A stylish but roomy hands-free bag is a perfect accessory for a busy day in San Diego. 
If you're fair-skinned like me, or want to avoid sun damage to your face, a wide-brimmed hat is perfect for the beach. I love this one that rolls up for packing without warping its shape. It's got a chin string also so it won't blow away in the breeze! 
Don't forget your bathing suit and towel also.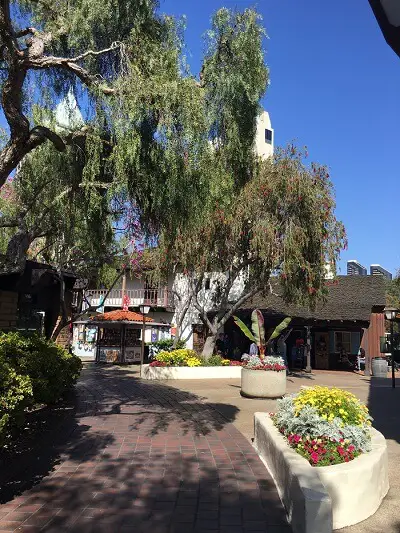 Other things you might like to have
These are just a few odds and ends but they can really come in handy.
Binoculars
My husband and I use our binoculars all the time at the beach. During fall and winter months, there are migrating whales and you can see their spouts much better with binoculars. Also cool to see dolphins more clearly! 
A good book
If you enjoy spending hours at the water, a good book is always a great companion. Depending on what genre you like, here are some of my favorites so far this year:
The Enchanted April
Under the Tuscan Sun
Delightful Creatures (?) 
Long hooded-towel for changing
If you plan to surf while you're in San Diego, there are plenty of board and wetsuit rental places. But one thing you may not think of is how to change into/out of your wetsuit when you're back at the car. 
This long hooded towel has got you covered … literally. It's also really nice if you want to just get out of your wet bathing suit and get dry clothes on without scouting out a bathroom. 
It's a favorite with folks who read my beginner surfing article. They sell like hotcakes. 😉
Beach/water shoes
If you're a treasure hunter like me, and because there can be thousands of rocks on our beaches at any given time, beach shoes are a must to find the good stuff among the pebbles. 
My favorites have been these lightweight slip-ons. I can't feel the rocks through them at all.
A mesh bag for shells
I call this my treasure bag and it's so nice for letting shells air out and dry as you collect them. The bag is mesh which keeps them safe and dries most of the drips before putting them in your rental car.
A protective cover for your phone
While it's great to have a phone at the beach, the sand and water can cause a lot of damage. I found this waterproof cover with a strap that also allows the touchscreen to work.
Insulated backpack/cooler bag
We usually don't head to the beach without our insulated backpack. Our lunches and drinks stay cold, and we can tuck our keys safely in there as well. Highly recommend!
** A word about San Diego seagulls.
The birds at the beach are no joke! 
Make sure your lunch and snacks (and any lightweight valuables) are put away out of sight in something more sturdy than a grocery/plastic sack. Another reason we like the insulated bag above!
They will grab food containers, sacks, ziplocs with food and anything else they can carry. You likely won't get it back.
FAQs about what to wear in San Diego right now  
These are some popular Google searches that I found.
What should I pack for 4 days in San Diego?
The answer to this may vary a little depending on the season. As we discussed before, most seasons here are a bit unpredictable as far as what to wear. 
But in general, if I were packing for a 4-day trip here, I'd bring a bathing suit, two pairs of shorts, a few cute tops, casual t-shirt, a light jacket or hoodie, pair of jeans, sandals, and walking shoes. And for a night out or brunch, my really cute Ripskirt dress.
What do you wear to walk around San Diego?
I recommend some sneakers with thick soles or comfortable running/athletic shoes for long days on your feet. If you'll be casually looking around shops or the harbor with lots of breaks, cute sandals that won't cause blisters will work great. And there's always flip-flops!
Do people wear jeans in San Diego?
This one is kind of funny, but if someone's asking, I'll answer. 
Yes, people do wear jeans here. They're maybe a tie with shorts (depending on season) but even then, denim shorts are practically the dress code in San Diego.
How do people in San Diego dress?
Locals in San Diego dress very casually. We're less into blingy stuff than our neighbor to the north, LA. So, when you're here just about anything goes. Sundress, no problem. Wacky boho tops, you'll fit right in. Retro striped bell-bottoms – yep. T-shirts, shorts, and flops … now you're talking.
What do you wear to a night out in San Diego?
For a casual dinner or a concert, you can wear what you want in most cases. The casual black dress or sundress – or jeans/long pants and nice shirts for guys/gals work great.  
If you plan on a fancy dinner or going clubbing, you'll want nice pants and dress shirts with decent shoes. No flip-flops for sure. Ladies can opt for stylish comfortable dresses and skirts as well.