Drought Tolerant Plants for San Diego: Trees, shrubs, flowers, groundcover & more!
San Diego's drought tolerant plants list is an impressive array of trees, bushes, flowers, groundcovers and more. If you own a home and want water-wise planting ideas, you won't be disappointed! Here are a few winners on our list:
Jacaranda tree
Crepe myrtle tree
Bottle brush tree
Mexican bush sage
Bush mallow
California lilac
Scarlet larkspur
Douglas Iris
Silver carpet
Sheep fescue
What type of climate does San Diego have?
Before we dive in to water-wise plants for our area, let's look at what kind of climate we live in.
The short answer is a Mediterranean climate that's warm and dry without much yearly rainfall. For this reason, we encourage local gardeners to incorporate as many drought tolerant plants in San Diego as possible.

*This article contains affiliate links which means if you make a purchase, we earn a small commission.
San Diego's climate includes:
Plenty of sun — average 260+ days per year with sun
Warm temperatures — winter has plenty of 60 degree days
Rarely below 49 degrees even on winter nights
Average rainfall of around 10″ per year
Average yearly high temperature of 70 degrees
Average annual low temperature of 58 degrees
What grows best in San Diego?
While you can grow just about anything here, the best plants to grow in San Diego are the ones that don't take too much coaxing and are kind to your water bill.
Native and drought tolerant plants are the superstars of the garden in America's finest city. And never fear — your yard won't even come close to looking like the desert (unless you want it to!).
With a very wide variety of plants that are water-wise, you'll be far from bored incorporating many of these beauties into your outdoor spaces.
You may also be interested in our comprehensive guide to xeriscape gardening in San Diego.
Best trees for San Diego
Although most trees can be happy here, the best tree varieties for San Diego are beautiful easy-care types that are happy with a little water and a whole lot of sunshine.
Drought tolerant trees we recommend:
Jacaranda
Crepe Myrtle
Bottle Brush
Mimosa
Flowering Pear
CA Sycamore
Australian Willow
Eucalyptus
Palms
Flowering trees

Jacaranda trees have feathery foliage and gorgeous purple flowers that bloom into the fall. They only need deep watering 2x month.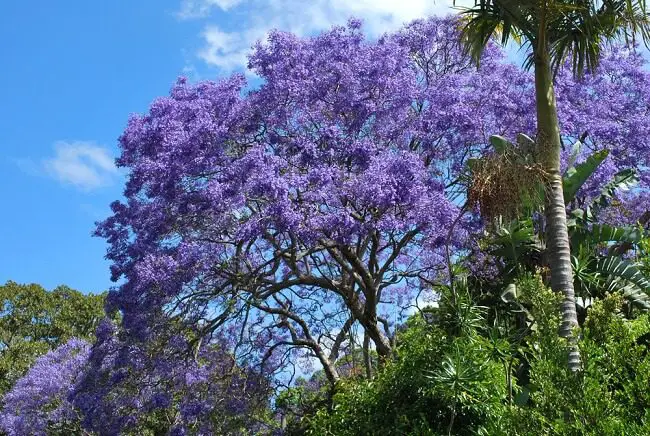 Crape myrtle trees are beautiful flowering trees in white, light pink, and magenta colors. These beauties tolerate various soils including clay and require moderate watering in summer.
The Bottle Brush Tree gets its name from the showy bright red spiky flowers that look like a baby bottle cleaner. Its blooms are popular with birds and hummers and the dense green foliage provides some privacy in small areas.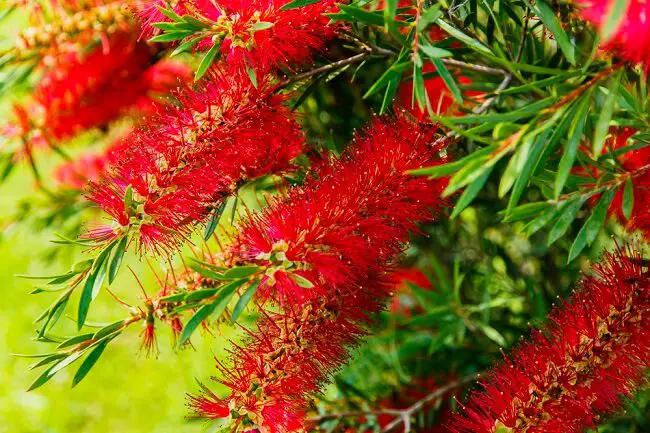 The Mimosa tree (silk tree) has distinct leaves which look like the fronds of a fern. Its best feature are the puffs of glorious spiky pink flowers that attract plenty of bees and butterflies. The mimosa needs water about once per week or less.
**Quick word about watering …
This Flexi Hose has been a life/garden-changer! I'll never go back to a regular hose. If you're tired of wrestling with heavy hoses that take a ton of space, you're going to LOVE this hose like I do!!
Flowering Pear (Ornamental) — not the one with fruit — has showy white or pink spring flowers. This tree is great for our area since it tolerates various soils, is drought-tolerant, and provides a bonus display of beautiful fall colors.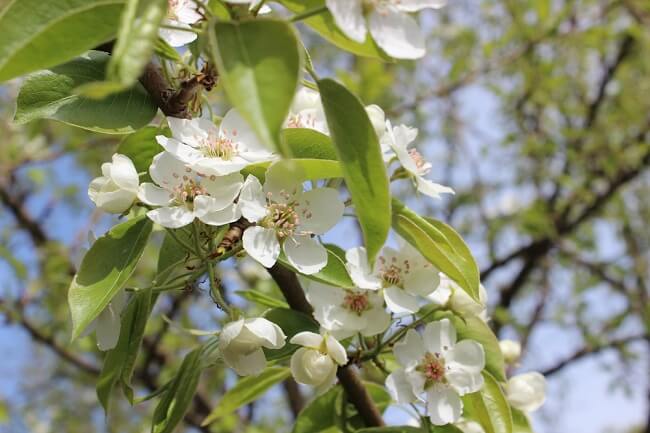 Non-flowering trees

California Sycamore trees have beautiful peeling bark with mottled colors that resemble camo underneath. The sycamore grows into a huge shade tree, tolerates most soils, and only needs water 1 time per week or less after it's established.
Australian willows are lovely weeping trees that grow to 30+ feet in height with a 20+ foot spread. This willow is very tolerant of poor soil and only needs moderate watering after it's established. The mature canopy may need pruning to keep it off the ground.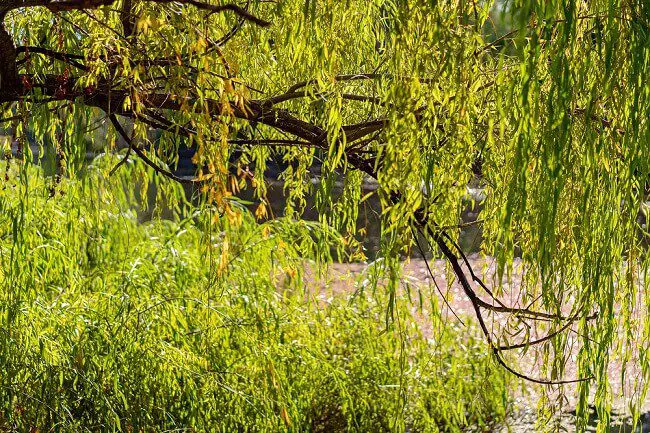 Eucalyptus Trees are practically synonymous with San Diego. With their signature peeling bark, these Australian natives are perfectly suited for our dry climate and can be found lining our freeways and parks.
Be aware that they grow very tall and require some sporadic cleanup since they do shed bark and some may shed berries and seeds as well. 
Palm Trees are pretty much the champion of drought-tolerant trees in San Diego. You can't go wrong planting a few palm trees for ease of care and as a great highlight to your yard. There are many types of San Diego palm trees to choose from, so you're sure to find one you love!
San Diego's drought tolerant shrubs
Drought tolerant shrubs in San Diego are a mix of function and beauty. These six steal the show for their unique blooms, interesting foliage, and ability to sustain our important bee and butterfly populations.
Bush Mallow
Mexican Bush Sage (and various other sages)
Bush Sunflower
Golden Yarrow
Blue Hibiscus
California Lilac
Bush mallow (various types) has unique fuzzy silver/green foliage with profuse light pink flowers which resemble little hibiscus blooms. The mallow is a fast grower that can bloom into fall.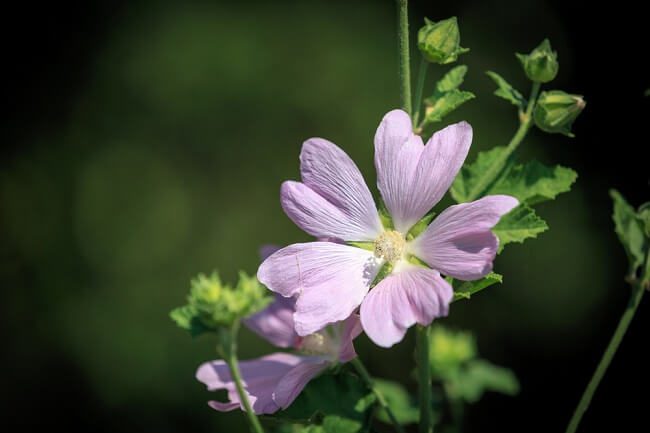 Mexican bush sage (and many other sages) has velvety purple flower spikes which bloom most of the year on small green foliage with a slight silver tint. They also prefer full sun, are very water wise, and attract bees and butterflies like crazy.
Bush Sunflower is part of the daisy family. It's fast growing with widely-spaces leaves and bright yellow flowers that look like daisies. This great shrub tolerates a wide variety of soils with little water and goes semi-dormant in winter.
Golden Yarrow shrubs are related to asters, only ½ foot tall, and have clusters of tiny yellow flowers with small green leaves. Yarrow likes full sun and tolerates bad soil. Butterflies absolutely love them.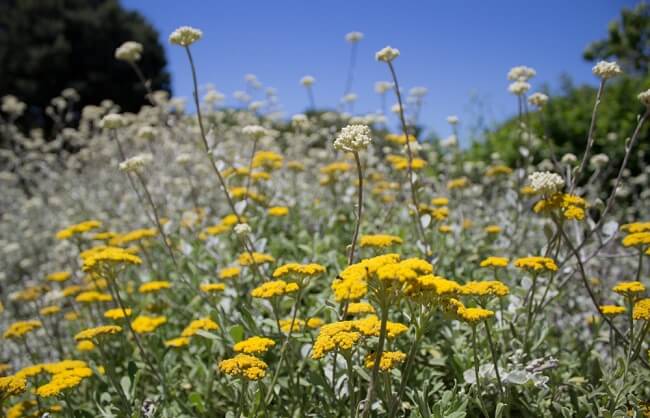 The Blue Hibiscus is native to Australia and needs very little care. It's a spectacular shrub with bright blue flowers and dark green leaves year round. This hibiscus grows 6- 8 feet tall but blooms better when pruned to be smaller (also makes a great patio tree in a pot).
California Lilacs are very easy keepers found growing wild throughout CA. With sweet-smelling blooms that attract butterflies and bees, you'll love them in your garden. They grow 8-9 feel tall, tolerate bad soil, and can even amend nitrogen. They come in various shades of blue (sometimes white).
Drought tolerant flowers
There are plenty of drought tolerant flowers that are perfect for our San Diego climate. From vines to tall flowers and bulbs, you can have great color in your yard while being frugal with the water!
Morning Glories
Scarlet Larkspur
Coyote Mint
Douglas Iris
Sulphur Buckwheat
California Fuchsia
Matilija Poppy
Morning glories are prized for their gorgeous blooms that hummingbirds totally adore. With broad green leaves, this fast-growing vine provides a generous amount of foliage that stays green year round in San Diego. 
Though they tolerate dry hot areas, this flowering vine also accepts some salt spray in case you live closer to the coast.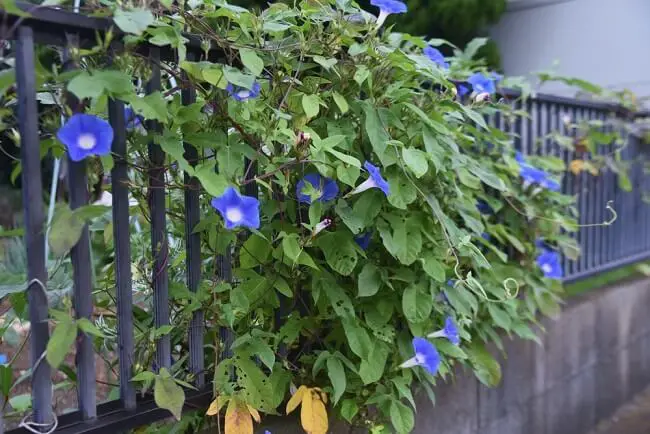 For a beautiful centerpiece, you can train morning glories to grow on a trellis, up a tree, or on a wall for splendid color. 
Morning glories are mostly grown from seeds and are rarely found in nurseries. 
** PRO TIP: Soak your seeds overnight before planting.
Scarlet Larkspur is a member of the delphinium family that grows 3-6 feet tall. Bees and hummers love the amazing red tubular flowers. The larkspur loves heat and needs little water.
Coyote Mint is a member of the mint family and forms a small bush with slightly hairy aromatic leaves. This plant produces attractive clusters of puffy flowers that range from lavender to pink. Butterflies love it. 
Douglas Iris are lovely wildflowers that can be found throughout coastal areas of CA. These iris blooms come in a variety of colors but purple is the most common. These grow up to 3 feet tall and 2-4 feet wide. Great for water-saving gardens and only need water a couple times a week in the heat. IMAGE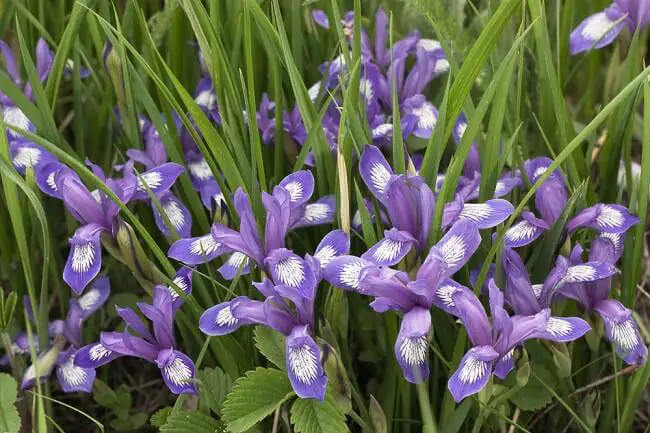 Sulphur Buckwheat is also known as sulphur flower, a wild buckwheat plant that produces bright flowers in white, yellow, or purple. There are many varieties of sulphur flower, so the sizes may vary a bit. But this is a great plant for drought-prone areas. 
CA Fuchsias have eye-popping red trumpet shaped flowers and are true heroes in the drought tolerant category. These flowers need only every 10 days or so summertime watering. They bloom late into the fall so hummingbirds have a food source as the weather cools off. Around 30″ tall, up to 3 feet wide, and they spread easily. 
Matilija Poppies have crisp white flowers with a bright yellow center and unique crepe-like petals that poppies are known for. The matilija is known as the largest bloom that's native to California (except for some hibiscus types). It grows like a shrub with pretty green foliage and only needs water only once per week once established.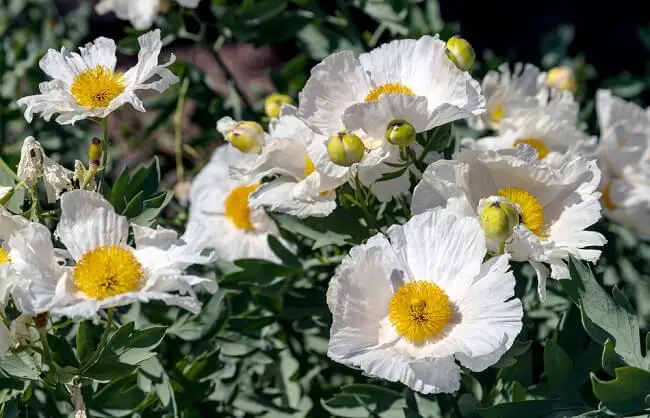 Drought-resistant ground cover plants
Ground cover plants that are drought resistant are great for filling in both large and bare landscaping spaces as well as conserving water in climates that need it most.
Drought tolerant ground cover that are native to California
Woodland Strawberry (Fragaria vesca): spreads, tolerates clay soil, deer resistant, full sun/part shade
California Aster (Corethrogyne filaginifolia): mound spreader, very low water, good in rock gardens
Hummingbird Sage (Salvia spathacea): spreads, shade/part shade, very low water, attracts pollinators
Checker Bloom (Sidalcea malviflora): spreads, sun/part shade, low water, stunning pink flowers
Blue Eyed Grass (Sisyrinchium bellum): tolerates poor soil, low water, purple flowers most of the year
**You'll find much more detail for ground covers in our post about best San Diego groundcover plants.
Drought tolerant ornamental grasses
Ornamental grasses are heroes in the drought tolerant grass category. With so many heights, textures, colors and flowering options, these easy-keeping wild grasses make a beautiful statement in a low-water landscape.
They're especially beautiful in rock gardens and for use as borders. Taller ornamental grasses are perfect for making a grand statement as a backdrop for other plantings.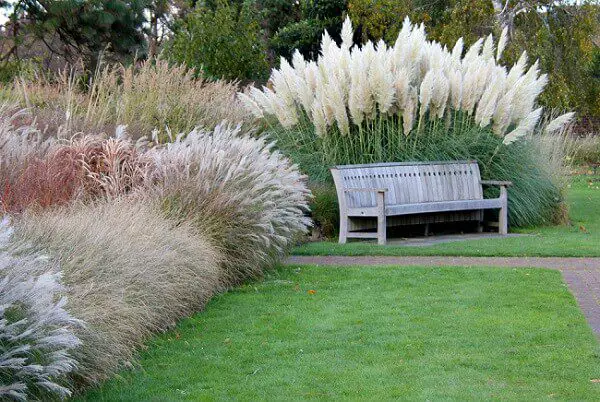 Our favorite drought resistant grasses:
Sheep Fescue — This dwarf variety maxes out at around a foot tall. Its spiky green foliage is interspersed with stalks of wheat-like flowers. This grass is a very easy keeper that tolerates the heat and needs little water.
Deergrass — A large clumping grass that's very easy to grow. The long thin spiky leaves grow around 3-4 feet long with a plant width of 4 feet. . Deergrass can produce numerous flower stalks up to 5 feet tall that resemble wheat stalks. This CA native is one of the easiest to grow since it prefers poor soil, heat, and very little water. 
Giant Wild rye — The tallest native California variety. Giant wild rye has spiky leaves that grow 3-4 feet long with 8+ foot reed-like stalks producing grain-like flowers. It's not fussy about soil quality, low water, or heat. A perfect drought-tolerant plant choice for our area. 
Elijah Blue Fescue — A short clumping grass that spreads in small mounds of silvery blue grass spikes. This fescue wild grass only grows 8-12″ in height with about a foot of spread. It's fast growing with tan feathery plumes that contrast well with the light blue strands. Tolerates full sun and poor soil. Great for borders and rock gardens.
Purple Fountain Grass — With glorious burgundy colored leaves and striking purple-red plumes, this ornamental grass is a real showstopper. It adds color and dimension to any landscape. This fountain grass grows 2-4′ tall and is 2-3 ' wide. The varieties "Fireworks", "Skyrocket", and "Rubrum" are good non-invasive choices for drought-tolerant ornamental grasses.
Products mentioned in the article:
Flexi Hose: this hose is the absolute bomb and I'll never have another type. It stretches and shrinks really small, is light and won't kink!
Wand sprayer for hose: this sprayer has great reach and eight adjustable spray settings. Perfect to pair with the hose.
Wood lattice trellis: perfect for the morning glory flowering vines we mentioned!
Beautiful blue morning glory seeds: for a gorgeous flowering addition to your garden that's easy care and doesn't need much water.
Concluding thoughts for drought tolerant plants:
Your yard doesn't have to look like a desert just because you incorporate water-wise plants.
There's a surprising variety of flowering plants, trees, and shrubs that not only save your water bill, but encourage bees, butterflies, and hummingbirds in this area to thrive.
It's possible to design your entire outdoor space with drought tolerant plants and still have a yard that's the talk of the neighborhood!
Our related San Diego gardening posts.
Ground Cover Plants that are Drought Tolerant
The Best Nurseries in San Diego
Top Wholesale Nurseries in San Diego