San Diego Staycation Ideas: Relaxing, Romantic & Budget-friendly!
If you don't have the funds or time for a proper getaway at the moment, but desperately need a break of some type …
Look no further than your own backyard in San Diego and North County. We'd be willing to bet you've lived here for a while and haven't experienced all of our staycation destinations!
You're definitely in for a treat if some of these are new to you. And if it's been a while since you've played tourist, we think you'll love visiting old favorites again.
San Diego Staycations for Ultimate Relaxation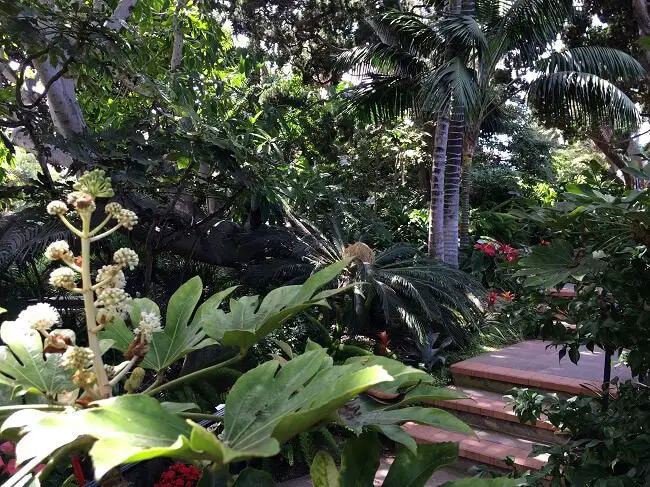 A San Diego staycation is a stellar idea when budgets and time won't allow for
a typical vacation. The weather is near perfect, and there's
something here to please everyone!
Enjoy a day at the harbor, then stay in a high-rise hotel with an eye-popping view.
Coronado island for the day and an oceanfront stay at Hotel del.
Acres of tranquility, beauty, and museums at Balboa park are waiting for you.
World-class beaches call for a good book, beach game, and champagne sunset toast.
Swamis meditation garden is an oasis you'll love for a total R & R day.
The SD Zoo is an experience you can't miss. Perfect for a staycation day.
Go for a wine tour and tasting in east San Diego county. Romantic and definitely budget-friendly.
Swamis Self-Realization Center Meditation Garden

**Temporarily closed but check often for reopening dates.

If you don't have much cash but you need some time away from the grind of everyday life — look no further than a few hours at the meditation gardens near Swami's Beach in Encinitas.
The meditation garden is part of the Self Realization Fellowship (Encinitas Temple) and it's located at 215 W. K Street behind the temple itself.
The peaceful tranquility and beauty of these gardens is hard to describe. The lush grounds with every tropical plant, bush, and flower you can imagine are purely spiritual and sure to reset a frazzled soul and mind.

There are a few koi ponds scattered throughout along with tucked away benches that are perfect for quiet reflection or meditation. The sweeping view of the ocean from the top pathway is simply breathtaking.
The meditation garden's location near the sweet main street of Encinitas makes it a perfect choice for a San Diego staycation day right in your own back yard.
Omni La Costa Resort and Spa for Ultimate Relaxation
My personal favorite staycation spot is in Carlsbad. I can sink into an impossibly comfortable couch or chaise lounge on the grounds of the Omni La Costa Resort, and never want to leave. It is FREE to meander the grounds, relax near the grand fountains, and peruse their boutiques and coffee shop.
This is truly a spot to spend an entire day listening to the gurgling of enchanting fountains, letting your cares slip away. The coffee shop is just around the corner and offers great coffee, smoothies, and treats.

**Check their website often for changes in offers and pricing as well as schedules for classes.

For the ultimate staycation splurge, Omni's onsite spa offers a citrus and kale facial for 50 minutes at $165 or a 50-minute La Costa relaxation massage for $165. This includes all-day access to the spa, sauna, whirlpool, and swimming pools — all eight of them!

Much cheaper than flying off to Hawaii.
The La Costa Resort also offers a birthday special with $35 off of any spa service on any one day during your birthday month. They also offer monthly specials, so check their website often for the spa deal of the month.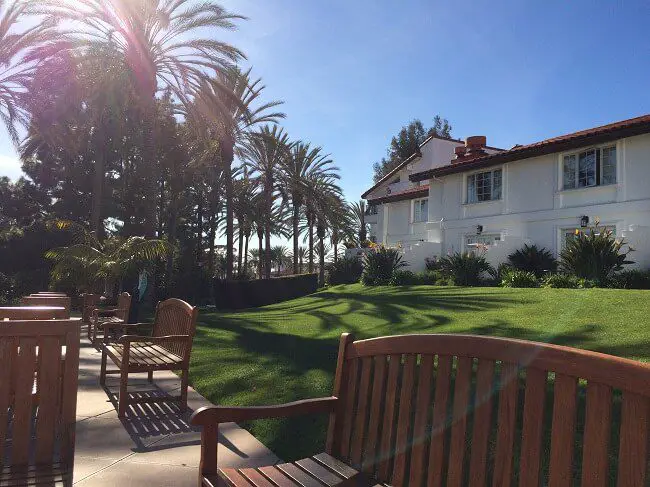 Romantic San Diego Staycations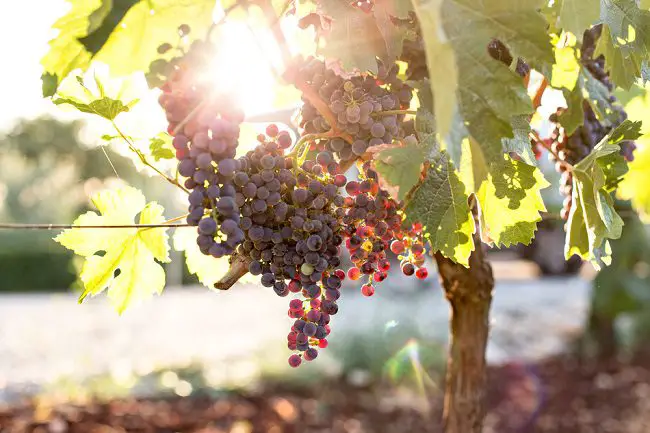 For another beautiful and relaxing staycation close to home, schedule a visit or tour and a tasting at a local winery. Or for a day near the water with your honey, try the San Diego harbor.
Vineyards & Wine Tasting in East San Diego
Espinosa Vineyards in Escondido specializes in Spanish-style wine and offers a tour of their grounds and vineyard with $10 tastings for five samples. Feel free to make a day of it by bringing a picnic lunch and soaking in the views of the San Pasqual Valley from their covered patio.
Tastings are Friday through Sunday 12 noon – 5:00 pm and by appointment only Monday through Thursday. Tasting is FREE if you purchase a bottle to take home. A lovely way to spend a day away without going very far or spending a fortune.
Milagro Farm Winery is situated in the rolling hills just east of Ramona, 50 minutes east of San Diego. Milagro is 110 acres of stunning views, nut and fruit orchards, and hiking trails.
If you choose to spend a day at Milagro, you can try your hand at Bocce Ball which is a family pastime, hike the extensive vineyard trails, and of course, enjoy their exquisite wine.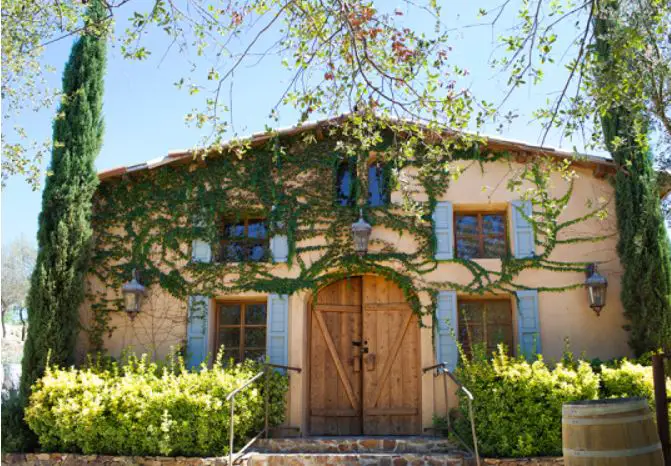 Tastings are $12 for six pours or $2 per individual pour and they are open Friday – Sunday 11:30 am-5:30 pm with live music and food throughout the summer.
Orfila Vineyard and Winery is a 70-acre spread located just south of Escondido in San Pasqual Valley. It is a popular spot for events and weddings and a great place for a bargain staycation.
The cost is $15 for six wine tastings with a take-home logo glass thrown in for FREE. Tours of the grounds are FREE and begin daily at 12:00 noon for a 30-minute walking tour. Comfortable shoes recommended.
Tasting room hours in Escondido are daily 11:00 am-7:00 pm.
The San Diego Harbor is Perfect for Couples
The beaches in San Diego get all the love, but when was the last time you spent an entire day (or night) at the harbor? You'll enjoy glorious views of the Coronado bridge as well as resident ships and aircraft carriers.
If you're lucky (like we've been), you may see a brand new naval ship or visiting carriers, as well as giant cruise ships and classic yachts — all sharing the harbor waters in harmony.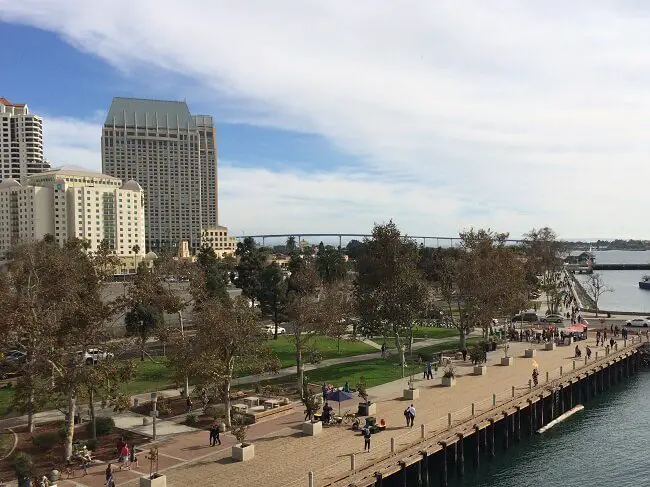 This is an aerial view of the bridge and some of the nice hotels down at the harbor from standing on the USS Midway aircraft carrier museum. If you've never visited the Midway, add that to your list of things to do at the harbor as well!
We love to peruse the shops down at Seaport Village and enjoy lunch or dinner right by the water or under the colorful umbrellas near the food court.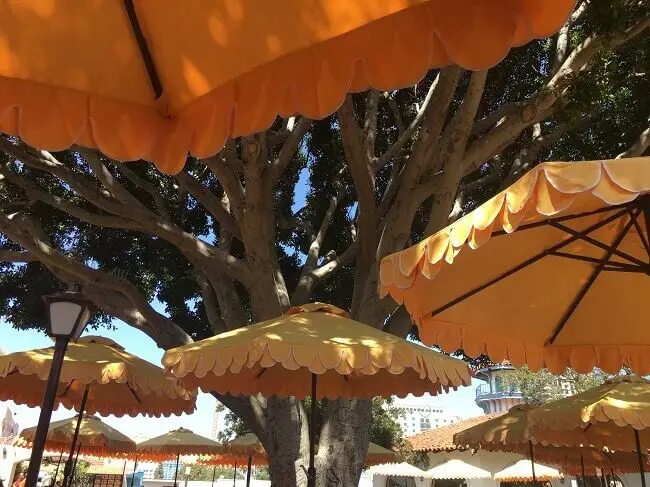 The San Diego harbor area is amazing at night as well. There are lights strung on some of the classic ships that are docked and there's usually live music from a local or two.
Splurge on a night at one of the neighboring high-rises, and sink into a truly relaxed state.
San Diego Staycations for Families
So many times we live in a glorious city and forget to take time and explore what we already have. Vacation time brings thoughts of flying away somewhere "exotic".
But if you're lucky enough to live in San Diego, do your family the favor of getting out there and enjoying your own town! It's certainly a cheaper alternative than a fancy vacation.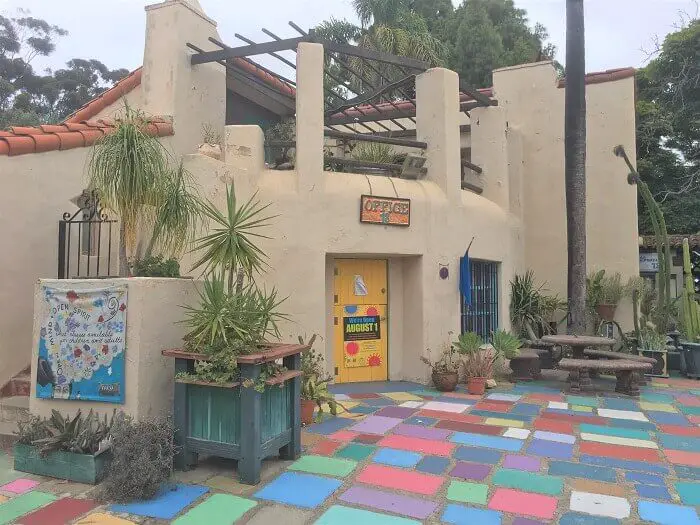 Balboa Park
Balboa Park is 1200 acres of culture and natural beauty. Get up early and enjoy the cool morning air by the Balboa Park reflecting pool near the main plaza and museum. Meander through one of 17 museums, an indoor botanic garden, outdoor rose garden, and a wide array of spectacular Spanish architecture.

And don't miss one of our favorite spots in the park: The Spanish Village Art Center.

With its colorful tiled flooring and whimsical art structures and buildings, you'll be immersed in a sea of art and creativity. Not a bad way to spend a staycation day by any means.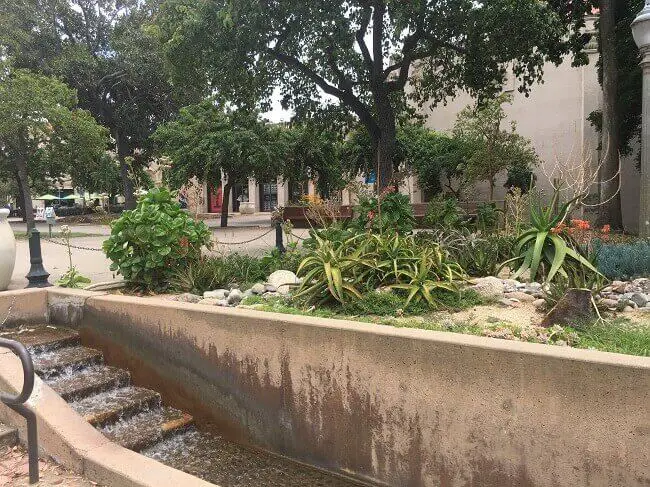 The San Diego Zoo
The San Diego zoo is right in Balboa Park and makes a perfect staycation day right in the heart of San Diego! If you've never visited, or it's been a hot minute since the last time you were there, this is a day trip worthy of a San Diego staycation for sure.

The zoo is 100 acres of lush landscaping, enclosures, and aviaries. It's also home to Australian and African exhibits and a total of 12,000 animals of 650 + species.

A day spent with magnificent animals and birds of all types will satisfy any wildlife enthusiast's need to get away. For the best experience, take time in your favorite areas and exhibits. The temptation to squeeze every single thing into one day will take away from the restful benefits of soaking up the beauty of the grounds.

If we had rushed our visit last summer, we'd have likely missed one of the most beautiful sights I've ever encountered there. The resident hippo had her baby and both were napping underwater right at the window for all to see. So precious.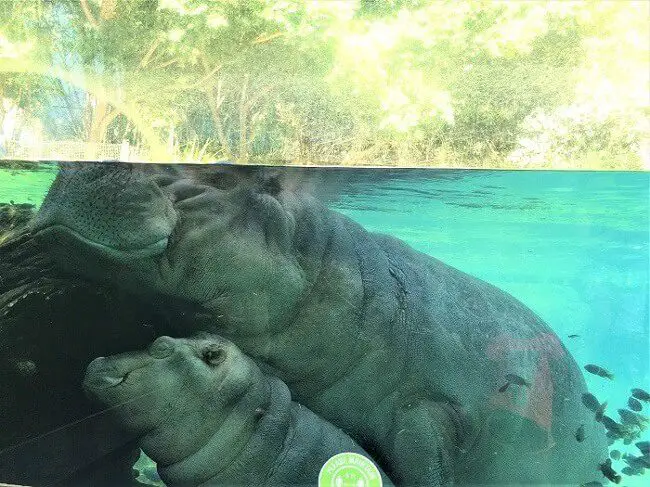 High on our list of favorites are the enclosed aviaries which aren't heavily traveled, offer cooling water features, and a sense of being far away in a jungle somewhere.

The primate exhibits are also delightful. It's easy to spend an hour watching the playful antics of the resident orangutan family or the powerful beauty of the male silverback gorilla.

You'll likely end your visit with the bright pink and coral goofballs in the flamingo pond. They're sure to put a smile on your face before you exit the park.
Hotel del Coronado and Coronado Island
Coronado Island is one of San Diego's most prized treasures. It's like a whole other world of its own. Just follow the gorgeous bridge over the harbor and you're there! Coronado is the perfect place for a San Diego staycation day or weekend.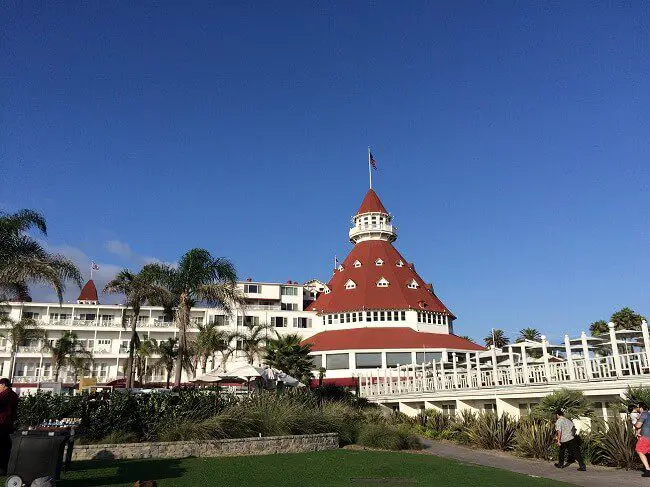 For a day excursion, park near the Hotel del Coronado on a side street and stroll through the shops on the main street of Coronado Island.

A really fun option is taking the ferry over to the island and renting bikes for the day.

Whether by car or bike, be sure to visit some of the glorious neighborhoods that are reminiscent of Key West, Florida.
Visiting the beach and grounds of the world famous Hotel del Coronado makes a great all-day getaway for any San Diegan who's up for a little R&R. If you've never been, or it's been a while — treat yourself to a San Diego staycation day at the Hotel del. The shops, grounds, sea-side restaurants, and ice cream shop won't disappoint!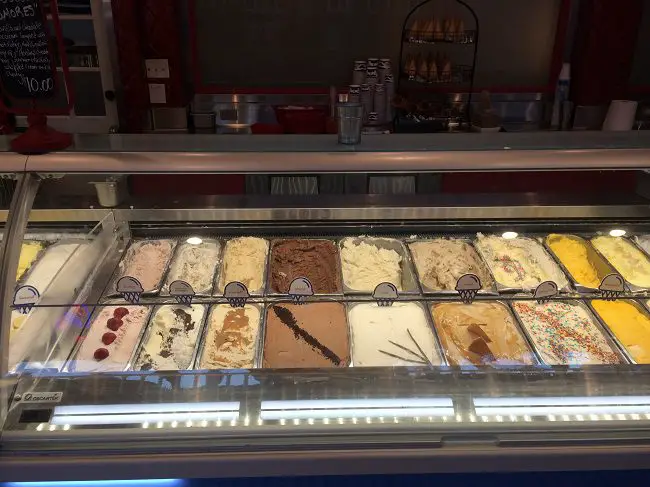 A Day at Any Fabulous Beach is Perfect for a Staycation
You cannot go wrong with any of our stunning beaches. Whether in San Diego proper or in North County, why not try a beach you've never been to?
If you're not sure where to go, we've got a complete guide to our San Diego beaches where you'll find something for just about any whim you can think of.
Pack up the family and head to a new beach for a day of fun and water play. Pretend you're truly away from your daily cares and settle in for the day. Be present in the moment and you'll feel rejuvenated in no time. The ocean is good like that.
Whatever you decide to do with your staycation days, have fun. And remember to enjoy our gorgeous city more often when you need a break from the daily grind.
In conclusion, that's a short list of our San Diego staycation ideas. Of course, there are a million more things you can do in our area. Let us know some of your favorites!