The BEST Nursery in San Diego: Top Picks!
The best plant nursery in San Diego is arguably Briggs Nursery in North County. There are dozens of fantastic nurseries in San Diego, but Briggs checks off the boxes customers look for in a top nursery pick:
Great prices.
Huge selection of plants, trees, and shrubs.
A variety of tree sizes from very small to mature.
Very helpful staff and a smooth checkout process.
They offer a frequent buyer program for 10% off all purchases.
With gorgeous, mild weather year-round, San Diego is a gardening and landscaping paradise.
With that said, the BEST nursery in San Diego could include dozens — if not hundreds — of outstanding plant nurseries. It's enough to make your head spin. We've got you covered.
Below you'll find several of our tops picks for San Diego nurseries and garden centers you won't want to miss. You won't be disappointed!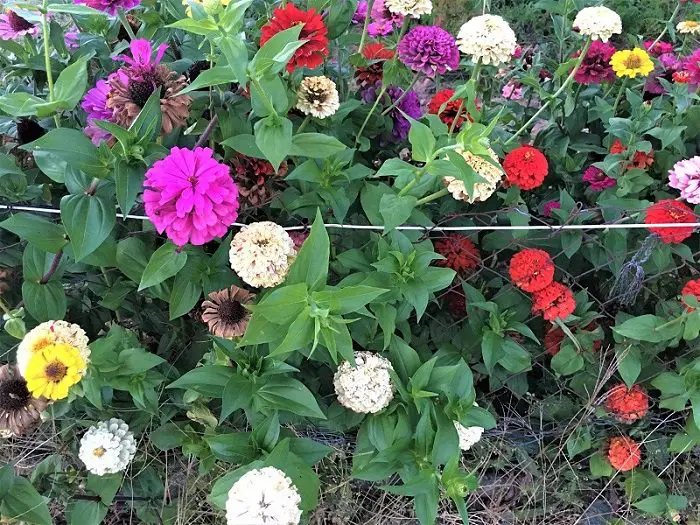 *We partner with Amazon. If you make a purchase, we may earn a small commission. We only promote products we use and love.
Wholesale Nurseries in San Diego & North County
San Diego's extensive growing season makes it a landscaper's paradise. Our neighborhoods, businesses, and public spaces are filled with amazing landscape design and gorgeous flowers — everywhere you look.
Our city takes great care of the local landscaping companies by providing many high-quality wholesale nursery options to fit pricing and inventory needs.
Head to our comprehensive guide to wholesale nurseries in San Diego for the scoop on the best in town!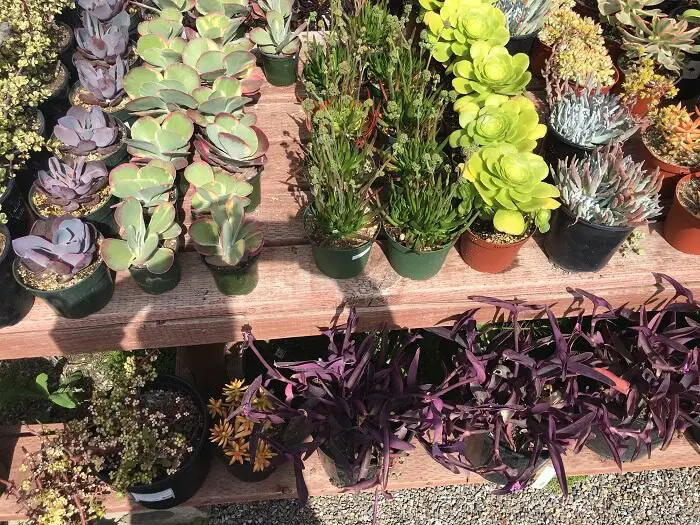 San Diego nurseries worthy of an afternoon outing
Some nurseries are simply divine and well worth a lengthy stay to drink in all of the good-ness. We've found two such nurseries in San Diego (and North County).
Customers overwhelmingly agreed that they could easily spend a day wandering through the grounds for a relaxing and free outing.
Mission Hills Nursery in San Diego's Mission Hills neighborhood is quiet and tranquil. With a resident cat, and a chicken coop on site, we think your kids just may love a stroll through these gardens as well.
Location:
1525 Fort Stockton Dr. San Diego
619-295-2808
What sets them apart:
* The relaxing botanic garden feel
* Small nooks and sitting areas to sit and enjoy the experience
* Chickens and a cat
* Carnivorous plants
* Huge variety of healthy plants and trees
* They host an adoption program for the endangered Joshua tree
Save your back while gardening , with a wobble seat (as my mom calls it). It has saved her back many times as she weeds around her lavender bushes. It gently leans forward with your body so you're not bending quite as far forward!

If you work long hours in your yard and want the flexibility of having a seat AND a padded garden kneeler, this convertible bench with side pockets for tools is perfect! We love the fact that you can sit or kneel comfortably.

For extra cushion on your knees if you've got a lot of ground-level work to do, this memory foam kneeling pad for gardening in those tricky places might be the perfect answer!
Green Thumb Nursery is a massive nursery that's like visiting a botanical garden. Complete with one-of-a-kind handmade garden art, it's truly a fascinating place to stroll. You could spend an entire day here.
Location:
1019 W San Marcos Blvd. San Marcos
760-744-3822
Green Thumb is a family-run operation since 1946 and offers customers outstanding knowledge in all things green. They are known for having an expansive selection of garden decor, art, pots, and anything else you might imagine for your yard. But what customers really love is their amazing variety of plants at very reasonable prices.
What sets them apart:
* Locally made pots and garden art — truly one of a kind
* Water garden
* Specialty supplies including fairy garden accessories
* Statues, benches, fountains galore
* Outstanding selection of everything, including exotics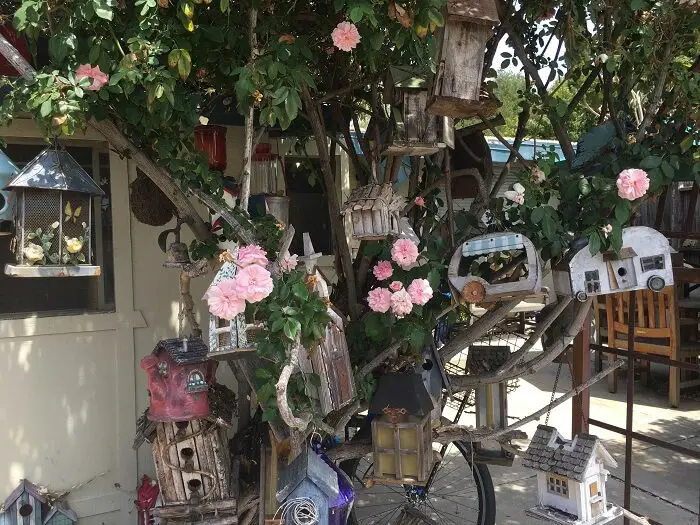 San Diego nurseries with great pricing
There are some nurseries in San Diego that are cheaper than others. So, if you're on a budget and need discount plants from quality nurseries, this list is for you.

Briggs Nursery & Tree Company is one of our top picks for discount nurseries in North County. They sell to the public as well as contractors.

Location:
1111 Poinsettia Avenue
Vista, CA 92081
1-760-727-2727
Briggs is a family-operated business that's been serving the North County and surrounding areas for over 40 years and has a whopping 200 acres of growing grounds to supply just about any plant or tree you can imagine.
What sets them apart:
* The sheer variety of plants and trees
* The prices are outstanding
* They offer a great variety of sizes — especially for trees and larger species
* You can join their frequent buyer program for 10% savings each time you shop

Clausen Nursery is a family-run business that's been serving San Diego for 85 years. They specialize in trees of all types and have an especially great selection of fruit trees.

Location:
3132 Blackwell Drive, Vista
(760) 724-3143
Clausen was founded in 1930 by Edwin Stromberg, just when the California avocado boom was starting. He was very instrumental in establishing many of North County's orchards we see today. The nursery was later given to his daughter and her husband Alvin Clausen and is now Clausen Nursery.
The nursery has 7 acres of fruit trees (primarily) of varying sizes and maturity. We were struck by the amazing variety they have. If you want a guava tree, you'll have three or more varieties to choose from.

They also have figs, citrus, peach, nectarine, apricot, and many varieties of avocado — as well as grapes and berries.

What sets them apart:
* The amazing selection of fruit trees in varying sizes
* They carry around 20 varieties of grape vines
* Their knowledgeable staff and friendly service (most of them part of the family business)
* The prices are great

A visit to Clausen is like stepping back in time where multiple generations have carefully tended these orchards in the beautiful area we call home.
"Plant your own garden and decorate your own soul
instead of waiting for someone to bring you flowers."

This Flexi Hose is honestly the best hose I've ever had! If you want a hose that you don't have to wrestle with, you need this in your garden! Lightweight — takes up a tiny amount of space — and won't kink… yay!!

Kniffing's Discount Nursery is located on 12 beautiful family-owned acres in El Cajon. This is a nursery in San Diego that definitely has one of the best selection of roses if you're a fan!

Location:
14940 Oak Creek Road, El Cajon
(619) 561-0611
Roses aren't their only hot commodity. One happy Yelp customer was thrilled to get a Pakistani mulberry tree for less than 1/2 the price she'd seen elsewhere. Kniffing's Nursery also carries a wide variety of landscaping materials including soils, compost, fertilizer, trellis and more.

What sets them apart:
* Great prices
* Best selection of roses in San Diego county
* Wide selection of palms, fruit trees, vines, berries and more
* Seniors (62+) get 10% off on Wednesdays & they offer a military discount
Nurseries in San Diego with a special touch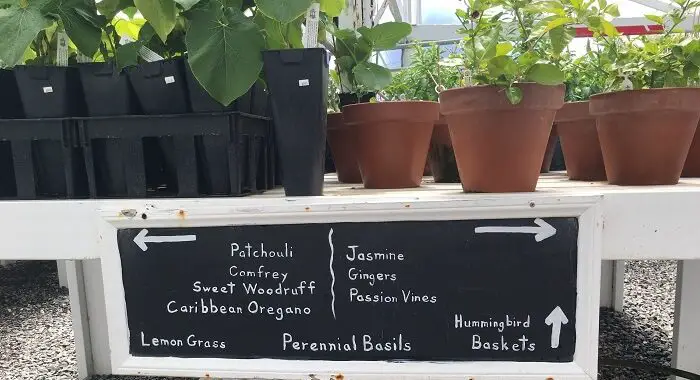 Pearson's Gardens & Herb Farm is one of our favorite places to visit in North County. While it's not a large property, it makes up for that in spades with the unique variety of herbs, berries, hard-to-find plants, and whimsical birdhouses.

Location:
1150 Beverly Dr. , Vista
760-726-0717
We were amazed to see things like Australian Violets, various garlics, unique bean plants, and even a Pink Lemonade Blueberry bush. Who knew there was such a thing?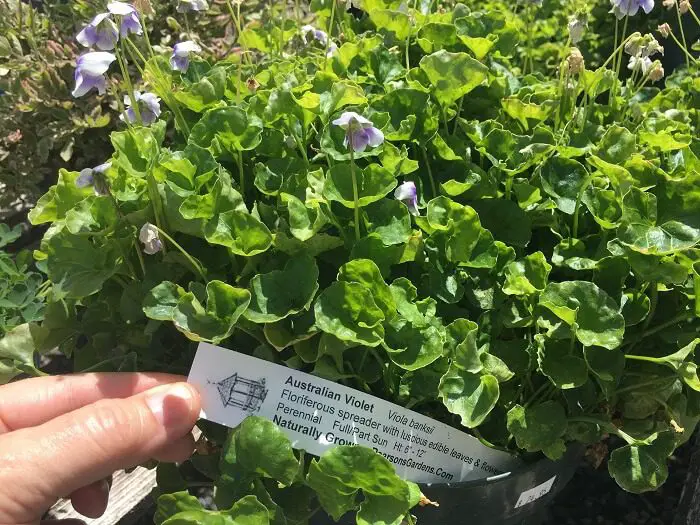 What sets them apart:
* A stunning variety of unique plants, herbs, vegetables, and more
* The whimsical feel of the place … like stepping into a story book for a while
* Seasonal baby tortoise enclosure and their cat "Tonka" — great for kids to see
* A beautiful collection of handmade birdhouses for sale
Green Gardens Nursery gets rave reviews for their outstanding custom creations done for you by their staff. If you have a picture of a plant arrangement you like, it's as simple as bringing in your own pot (or buying one there) and they'll make it for you!

Location:
4910 Cass St. San Diego
858-483-7846
What sets them apart:
* They will put together amazing arrangements for you
* Great selection of pots
* Beautiful home decor section
* Huge variety of indoor plants including rare species
* Helpful and knowledgeable staff with great advice and tips
Bamby's Flowers and Nursery in Carlsbad Village is a tiny oasis of wonder. I was so stunned at how many gorgeous and healthy plants they could pack into such a small little shop area.
It's a beautiful place to visit if you're ever in Carlsbad. I had seen it for a couple of years, not realizing it's a plant nursery here in north county San Diego. It seemed like more of a cut flowers shop — which it is, but the plants are amazing.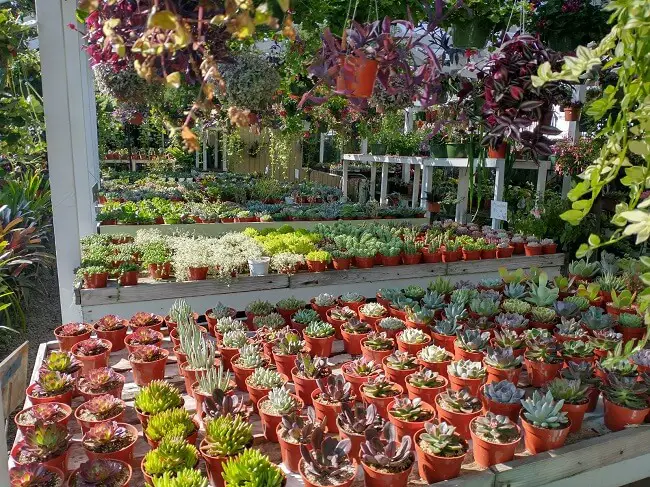 If you love succulents — this is your place! So many different varieties and very very healthy plants. Same for indoor plants. If you're looking for pretty foliage for your house, you won't be disappointed.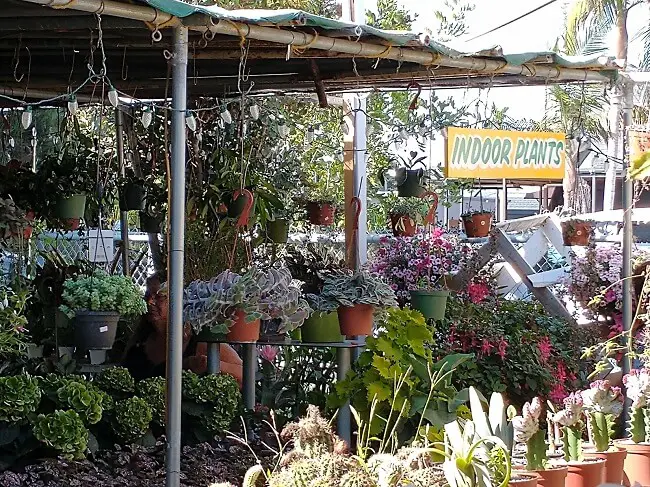 Location:
2763 State St, Carlsbad
(760) 828-3554
San Diego nursery with a touch of zen + coffee

North Park Nursery is a particularly "zen" nursery in San Diego in the midst of the lively North Park area. One of its best assets is the coffee shop that's attached! There's also a great little gathering spot and shop called The Bungalow.

Location:
2335 University Ave
San Diego
619-795-1855
North Park Nursery's trademark is providing a wide variety of locally-sourced (southern California) plants and succulents. They have great reviews for their selection of pots as well as a helpful potting station.

Things to note:
* They are located in the city and parking can be difficult — it's recommended that you visit during off-peak hours
* They offer classes and workshops (stay tuned and check in often for Covid-related info)
* There's a coffee shop on the premises and a cute gift shop called The Bungalow
Many San Diegans have limited space for outdoor gardening … that's just a fact of life here for some of us. We've been able to have our cake (or vegetables!) and eat it too with container gardening.

Here are some of our favorite garden container options.

We love this raised planting bed that's mobile because it can be moved out of direct sunlight so our delicate lettuces won't wilt. It's also fantastic for herb gardening!

If you want more color on your patio, this vertical raised bed has FIVE boxes for planting and looks gorgeous when you combine herbs, flowers, and trailing plants. It can definitely transform a small space!
San Diego garden center with amazing pots

Anderson's La Costa Nursery

Anderson's La Costa Nursery has been serving up beautiful plants since 1954. It was a real treat to visit their indoor display of pots, trellis, picnic tables and the outdoor grounds were a delight to stroll.

Location:
400 La Costa Ave., Encinitas
760-753-3153

They had a very pretty selection of succulent arrangements as well as a multitude of unique and colorful pots in a wide variety of sizes and shapes. Anderson's La Costa also had beautiful roses, a wide range of healthy indoor plants, and a friendly knowledgeable staff as well.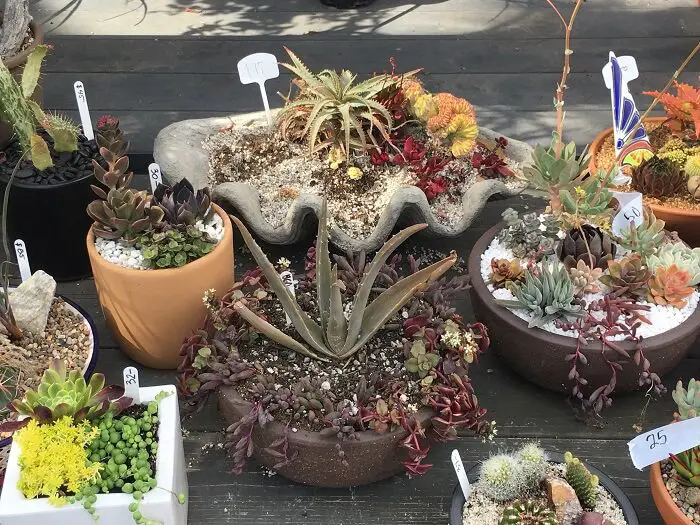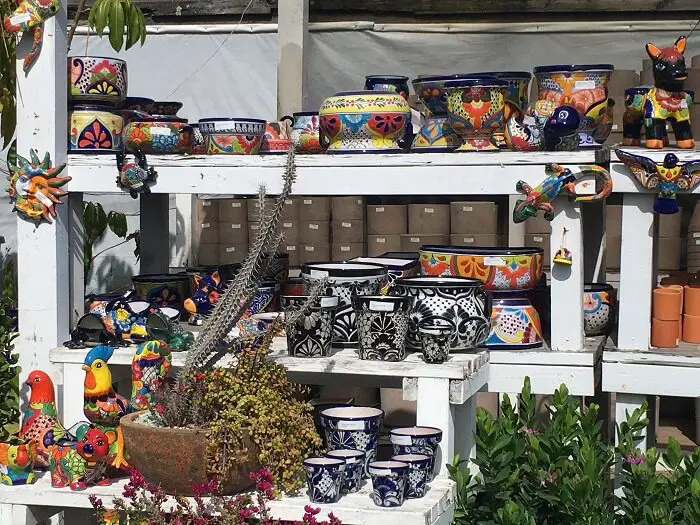 What sets them apart:
* An amazing selection of pots — both solid color, tera cotta, and unique designs
* A great selection of really healthy indoor plants
* They have an indoor area that houses an extensive array of trellis, bird baths, garden statues, pots for water features, adirondack chairs, and even wood picnic tables

San Diego nurseries also feature PLENTY of options for water-saving xeriscape plants. In our drought-prone area, it's a smart idea to learn about xeriscape gardening!
Products mentioned in the article:
Flexi Hose: this hose is the absolute bomb and I'll never have another type. It stretches and shrinks really small, is light and won't kink!
Wand sprayer for hose: this sprayer has great reach and eight adjustable spray settings. Perfect to pair with the hose.
Wobble seat garden stool: saves your back and moves with you!
Garden kneeler and seat with storage: very versatile garden helper with side storage for tools.
Thick gardening kneeling pad: to save your knees while you're at ground level.
Mobile raised planting bed: perfect for herb gardens right outside the kitchen or small patio spaces!
5 Tier vertical planter box: fill in that small patio space with flowers and greenery without taking up too much space.
San Diego landscape design – special mention

Mexican Beach Pebbles isn't exactly a nursery in San Diego but a great wholesale landscape supplier that's been in business for over 20 years and they supply top quality hand-picked beach pebbles from Mexico.

While they are wholesale, it's possible to contact them for a price quote if you'd like to purchase a large order for your landscaping project.

What sets them apart:
* Quality … they literally hand pick each stone from select beaches in Mexico and transfer them to their storage yard in south San Diego
* You can order specific colors of stone besides the typical multi-colors
* They also offer a selection of driftwood, chicaron, and flagstone
* They ship all over the U. S.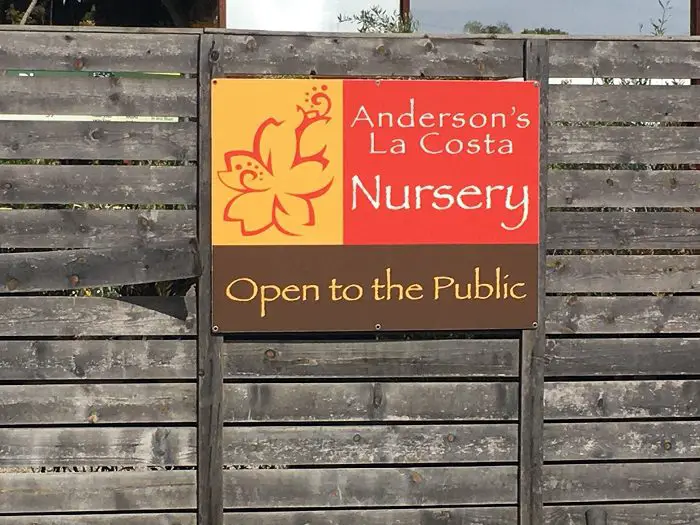 The best nursery in San Diego is a tough one to pick, but we managed to find some real gems. From outstanding selections, unique varieties, and truly gorgeous grounds, you can't go wrong perusing these top nursery picks!

Check out the other articles in our gardening series here: